The Mission Community Market (MCM) is the only Mission organization seeking to bring all the diverse people in our community together. Through healthy foods, local business and community events, we are turning public space into common ground.
Program Overview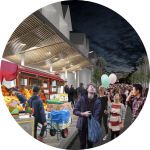 Activating the new Bartlett "Placita" – with new vendor canopies, murals, lights and more, the "little plaza" will transform Bartlett Street. Help us create welcoming neighborhood events with community arts, signage and equipment.
Showcasing local music and youth talent – The market showcases local bands and youth musicians. Grow the program and bring the Streetstage out for more acoustic acts.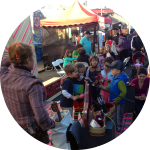 Providing fresh food incentives and nutrition counseling – The "Mercado Match" program has grown incentives for CalFresh (formerly food stamps) participants by 40% and added over 200 participants in 2015. Help us grow and provide nutrition classes in 2016!
Growing small businesses – MCM has provided access to market for 30 women-owned businesses and the first point of sales for over 19 micro-enterprises. This year, Reem's and Girl Friday Zeppole launched into the Ferry Plaza based on MCM experience. Help us grow local entrepreneurship with technical and marketing support at MCM.
Operating the weekly Market – Every week dedicated volunteers make MCM run. Join us as a volunteer!