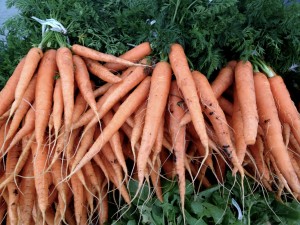 If you're looking for a sweet but healthy snack, try glazing your carrots in some brown sugar, ginger, and garlic! This dish is delightfully full of flavor and satisfies your sweet tooth without the processed sugar conventional candy contains. Adapting your palate to craving healthier sweets can start with a visit to the Blue House Farm stand at this week's market. They grow an array of organic vegetables, cut flowers, and fruits year-round on a beautiful farm tucked into the valley of Pescadero, California. Grab a bunch of carrots from the market, and add in some garlic, organic dark brown sugar, organic sweet butter and ginger from Rainbow Grocery or your local market to make this easy, delectable dish at home!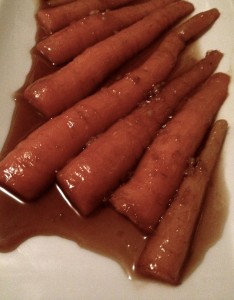 Brown Sugar Glazed Carrots
Ingredients:
1 Bunch of carrots from Blue House Farm
1/4 cup Dark Brown Sugar
1 tbs. Ginger, minced
1/2 tbs. Garlic, minced
1/4 stick of Sweet butter
Instructions:
Slice carrots in half after a good wash to get all of the moist soil off of their skin. Blanch sliced carrots for roughly 6 minutes until they embody their true orange hue. In the meantime, melt butter in a separate pan. Add minced garlic and ginger when melted and simmer on low. Add brown sugar once the garlic and ginger have infused with the butter and add a dash of water. Strain carrots and add them into the brown sugar sauce and simmer until carrots turn slightly gold with sweetness. Serve alone or accompany with a side dish of coriander rice.