Mission Community Market is pleased to welcome back Tomatero Farm to market Thursdays! This week we have highlighted a good ol' head of cabbage..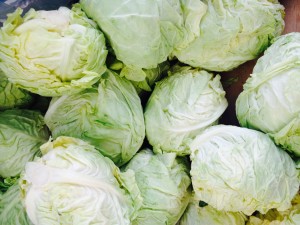 To some, one of the most confusing vegetables to prepare. Does one steam, boil, sauté, or bake this round, green beauty? This week's recipe guides you in the southern style of preparing a cabbage. This quick, easy, and delicious technique will highlight the flavor and texture of this mysterious veggie. To accompany the deep flavor of this recipe, mashed potatoes and blanched carrots make for one hearty, healthy meal! The best part about this recipe is that it's even better on day two after a night of soaking in the fridge!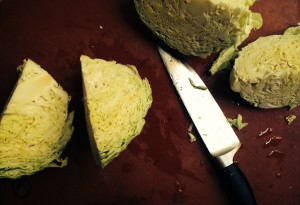 Southern Style Cabbage
Ingredients:
1 head of cabbage from Tomatero Farm
2 tbs. butter
2 tbs. olive oil
1/2 tsp. salt
1/2 tsp. Cajun seasoning
Dash of dill and chili powder
Fresh black pepper
1 1/2 – 2 cups chicken or vegetable broth
Directions:
Cut the cabbage into quarters and slice off the hard stem. Gently slice each quarter into roughly 1-in. thick strips. In a large pot, add the butter, olive oil, salt, pepper, seasonings, and cabbage. Add in the chicken or vegetable broth and toss. Bring pot to a boil over medium-high heat. Cover and reduce heat to medium-low. Simmer for 12-15 minutes, stirring the cabbage occasionally until it is tender. Do not overcook.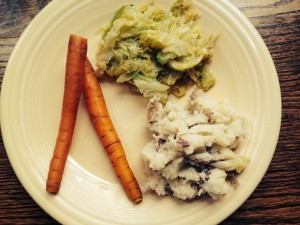 Zuckerman's Mashed Potatoes
Ingredients:
Mixed bag of potatoes from Zuckerman's Farm
2 tbs. butter
Salt, pepper to season
Directions:
Chop potatoes in half and add to a pot of water. Boil for roughly 25 minutes until tender. Drain 90% of the water and mash the potatoes with butter, salt, and pepper until smooth.
Blue House Blanched Carrots
Ingredients:
Bundle of carrots from Blue House Farm
1 1/2 cup water
Directions:
Add water to a pan and simmer the whole, cleaned carrots until tender (roughly 15 minutes). This preparation highlights the sweetness of the carrot, while maintaining nutrition and omitting unnecessary fats!