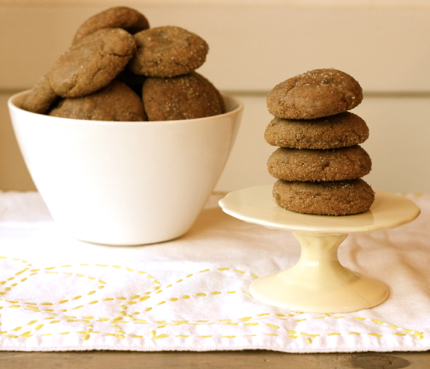 Orange zest and orange glaze add a fresh twist to these delicious ginger cookies. Pick up juicy navel oranges from Twin Girls Farm or mandarin oranges from Winters Fruit Tree to add this seasonal spin to a classic cookie. You can also make a variation substituting lemons for oranges. Try Meyer lemons from Winters Fruit Tree for their sweeter flavor.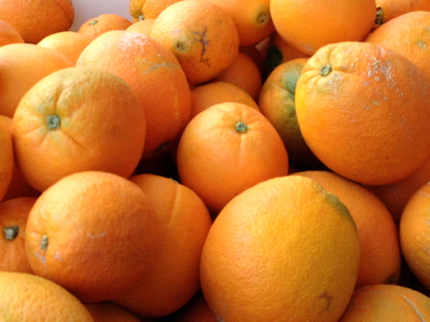 The addition of citrus doesn't mean these cookies are light on ginger flavor. Each chewy bite has a zing of ginger from the addition of three types of ginger: ground ginger, fresh grated ginger, and crystallized ginger.
Citrus ginger cookies are perfect for this time of year. Bake up a batch for a cookie swap or to share with friends and coworkers! And in the process fill your kitchen with the warm aroma of ginger, spices, and citrus baking in your oven.
Happy baking!
Citrus Ginger Cookies
Adapted from 101Cookbooks.com
Ingredients:
1/2+ c large-grain sugar (such as organic cane sugar or turbinado)
1 naval orange or 2 mandarin oranges or 2 Meyer lemons
2 c flour
1 t baking soda
1 t cinnamon
1 t allspice
1/2 t salt
1/4 t white pepper
2 t ground ginger
1 stick (1/2 c) unsalted butter, room temperature
1/4 c unsulphured molasses
2/3 c sugar
1 T plus 1 t fresh ginger, peeled and grated
1 large egg, well beaten
1/2 c crystallized ginger, minced
1/2 c powdered sugar
Instructions:
Preheat oven to 350 degrees.
Zest the orange(s) or lemons to yield a heaping tablespoon of zest. Juice the fruit and reserve 2 tablespoons of the juice for making the glaze. Save the remaining juice for another use.
Whisk together the flour, baking soda, cinnamon, allspice, salt, white pepper, and ground ginger in a large bowl.
Heat the butter in a saucepan until just barely melted. Stir in the molasses, sugar, and fresh ginger. If the mixture is hot to touch, let it cool until it is lukewarm. Whisk in the egg and pour the mixture over the flour mixture. Add the crystallized ginger and orange or lemon zest. Stir until just combined. Refrigerate for at least 30 minutes.
Scoop a heaping teaspoon of dough and roll into a ball, then coat in large-grain sugar. Place sugar coated dough balls a few inches apart on a parchment-lined baking sheet. Bake for 10-12 minutes, until cookies puff up, get fragrant and crack. Cool on a wire rack.
Prepare the glaze by whisking together powdered sugar with 2 tablespoons orange or lemon juice. Dip cooled cookie tops in the glaze or use a pastry brush to apply the glaze. Sprinkle with more large-grain sugar.
Store in an airtight container. Makes about 45 cookies.