Spring is here and strawberries are available at the market! What better way to enjoy the warm weather than with refreshing strawberry frozen yogurt made with strawberries from Yerena Farms and amped up with a swirl of jam from Grandma's Homemade?!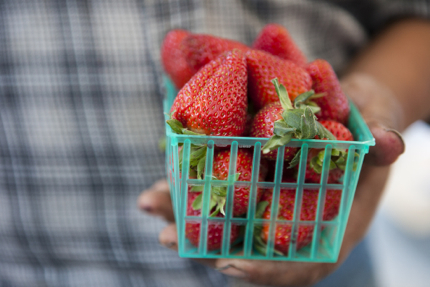 Making this strawberry frozen yogurt with a jam swirl is super simple – puree yogurt with sweetened strawberries and spin into frozen yogurt, then layer with a jam of your choice, such as albion strawberry or raspberry. While it's easiest to use a home frozen yogurt and ice cream maker (for example, the Cuisinart ICE-21 works great and is under $50), this recipe also includes basic instructions without using a machine.
Pick up some strawberries and jam at the market this week and give making homespun frozen yogurt a try!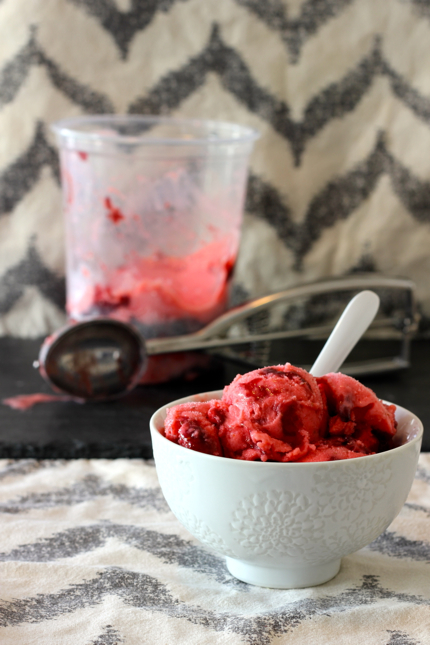 Strawberry Frozen Yogurt with Jam Swirl
Adapted from The Perfect Scoop by David Leibovitz; instructions without machine from I Scream Sandwich! by Jennie Schacht
Makes about 1 quart
Ingredients:
1 pound fresh strawberries (from Yerena Farms)
2/3 cup sugar
2 tsp vodka or kirsch (optional)
1 cup plain whole-milk yogurt
1 tsp freshly squeezed lemon juice
Jam of choice (we absolutely love albion strawberry or raspberry from Grandma's Homemade)
Instructions:
Rinse and hull strawberries and slice into small pieces. Stir with sugar and vodka or kirsch (if using) until sugar dissolves. Cover and let stand at room temperature for about 1 hour, stirring occasionally. Puree the strawberries and their liquid with yogurt and lemon juice in a blender or food processor until smooth. Optional: press the mixture through a mesh strainer to remove any seeds.
Refrigerate for 1 hour, then freeze in your ice cream maker according to the manufacturer's instructions (see below for alternative instructions without a machine). When ready, spoon a generous amount of jam into the bottom of a container and top with a layer of frozen yogurt. Repeat, alternating generous spoonfuls of jam with the rest of the frozen yogurt. The frozen yogurt will be fairly soft when first out of the machine. If you prefer, keep in the freezer until the frozen yogurt firms to your desired texture.
If not using an ice cream maker, chill the yogurt-strawberry puree in a heavy-duty zipper-top bag with a reliable seal in the refrigerator for 1 hour. Nestle the sealed bag inside a larger zipper-top bag filled with ice and rock salt. Tightly seal the outer bag, then shake, toss, or roll the two together until the frozen yogurt freezes to a soft-serve consistency. At this point, move to a container and layer with jam as described above. Freeze until firm if desired.