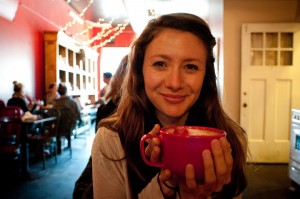 Hey everyone!
My name is Dana and I will be an MCM Intern this summer. Having spent some time as a Mercado volunteer and shopper, I am super stoked to be joining the team and contributing behind the scenes and on Thursdays. I've had a serious passion for healthy, fair, good food for as long as I remember. As with most foodies, this passion started as a love of cooking and eating and has morphed into a desire to make change within America's food system by deepening consumers' relationships with the food they eat. I can't wait to be a regular part of the connections between producers and the public at the Mission Mercado. I'll also be contributing to this blog regularly with vendor features, recipes, and more.
I spend my time between my job slinging deliciousness as a cheesemonger at Mission Cheese, delighting my roommates with home-baked cookies, and cooking up the treasures I discover at MCM.
Keep an eye out for my future posts and I'll see you Thursdays at Bartlett & 22nd!