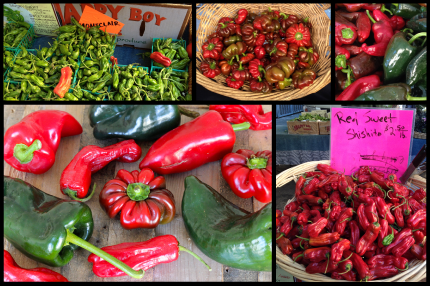 The abundance of peppers at the market comes in many shapes, sizes, colors, and flavors. Don't miss out as pepper season winds down! Blue House Farm and Happy Boy Farms tell us there are only about two to three weeks of peppers left.
Wondering what to do with all these wonderful peppers? Chiles rellenos are a traditional Mexican dish that translates as "stuffed chiles" – typically a roasted poblano pepper stuffed with cheese, fried in egg batter, and served over tomato sauce. This casserole is an easier version that's also healthier because it's baked instead of fried.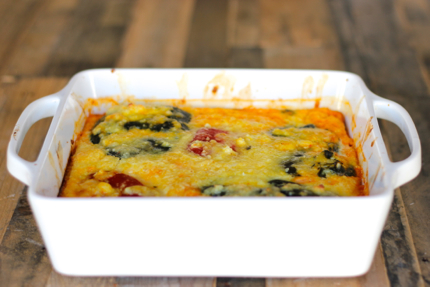 This casserole features a variety of peppers that can be found at the market – red shishito peppers from Happy Boy Farms and round of Hungary, poblano, and lipstick peppers from Blue House Farm. A layer of tomato sauce made with heirloom tomatoes from Happy Boy Farms and laced with red shishito and round of Hungary peppers is topped with poblano and lipstick peppers stuffed with cotija and monterey jack cheeses. The casserole is then topped with an egg-flour mixture featuring eggs from Great Valley Poultry and baked to perfection. The peppers can be stuffed with cheeses of your choice – for an extra kick try the Hot Hilda fresh cheese curds from Achadinha Cheese Company flavored with cayenne and red chili!
The full recipe is after the jump. ¡Buen provecho!  Read more