Spring weather is here which means it's time to drag out that barbecue, wipe it off, and heat it up! At MCM you can now find Blue House Farm, Tomatero Farm, and Zuckerman's Farm offering an array of seasonal, local veggies perfect for grilling. Although you can roast almost any vegetable, this week's recipe highlights the flowering artichoke drenched in healthy oils and grilled (or roasted in the oven) to a crisp, hearty perfection.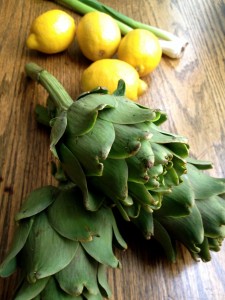 You probably have a bottle of olive oil sitting on their counter for use during cooking, but what you may not know is how beneficial olive oil is to one's health. A study conducted by the New England Journal of Medicine found that those who ate up to four tablespoons of extra-virgin olive oil a day cut the risk of heart attacks and strokes by 30 percent compared to other low-fat diets. This recipe uses fresh extra-virgin olive oil to enhance the flavor of the artichokes while providing you with a heart-healthy dose of deliciousness!
California Marinated Artichokes
(Recipe has been adapted from the Tony Baker Rio Grill in Carmel, California)
Ingredients:
For the Grilled Artichokes
1 cup of White wine
2 tbs. of Fresh lemon juice from Twin Girls Farm
3-4 Artichokes from Blue House Farm
For the Marinade
1 1/2 cup Extra-virgin olive oil
3/4 cup Balsamic vinegar
2 stalks of Green garlic from Blue House Farm
1 tbs. Fresh oregano, thyme, and marjoram, chopped
Salt and pepper to taste
Directions:
Cut off the top 1/3 of artichoke and trim the tips of leaves. Fill a large pot with enough water to cover artichokes, and add 1 cup of white wine and 2 tablespoons of lemon juice to the water. Boil the artichokes in the water, wine, and lemon juice for about 25 to 30 minutes until soft. The wine preserves the color and gives the artichokes a deep, unique flavor.
Set aside the cooked artichokes and prepare the marinade by combining 2 cups of olive oil with 1 cup Balsamic vinegar, 2 stalks of fresh green garlic, 1 tablespoon fresh oregano, 1 teaspoon fresh thyme, and 1 teaspoon fresh marjoram. Add salt and pepper to taste and mix well.
Once artichokes have cooled, spread the leaves out slightly with a spoon to allow the marinade to infuse into all parts of the artichoke. Drizzle artichokes with the marinade, setting aside enough to coat each artichoke after cooking.
If you would like to grill the artichokes: Wrap each artichoke individually in foil. Place on hot coals in grill for about five to seven minutes. Remove from foil and brush with remaining marinade. Serve hot.
If you do not have a grill, roast them in the oven: Place the marinated artichokes on a pan and cover with foil. Bake at 400 degrees for about 7 minutes. Remove the foil and broil for another 5 minutes to crisp the tips of the leaves. Brush with remaining marinade. Serve hot.