We're excited to have a new Chef's Market Box available for sale now through Good Eggs' spiffy new website. This week's recipe is from Chef Nick Adams of The Corner Store and The Salt House. As always, the Chef's Market Box will include a recipe and all the ingredients you need to whip up a tasty seasonal recipe, all sourced from the Mission Community Market vendors.
This week's box includes ingredients and a recipe for savory papas bravas with a salad of arugula, stone fruit, and ribboned squash. We'll give you exactly what you need to execute this dish perfectly, and you'll feel like a gourmet chef at home!  Take one look at this enticing plate and you'll be clicking through to the order page in no time!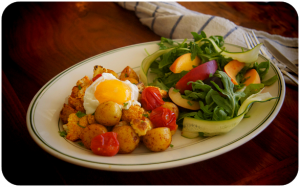 Place your order for this week's Chef's Market Box today and get it on Thursday, August 2nd! You can opt to have it delivered to your home or office, or pick it up at one of our convenient pickup locations.  We recommend grabbing yours at MCM on Thursday, where you can enjoy all the awesome goodness that the market has to offer.