My dad always has a jar of pickled eggplant in the refrigerator, probably because when he was growing up, his parents did too. So when I saw eggplant is still available at Blue House Farm I knew exactly what I wanted to do with it. Pickling eggplant means I can savor it after fresh eggplant is no longer available, which could be any week now. Get some eggplant while you can and make this recipe so you can keep enjoying it for weeks to come!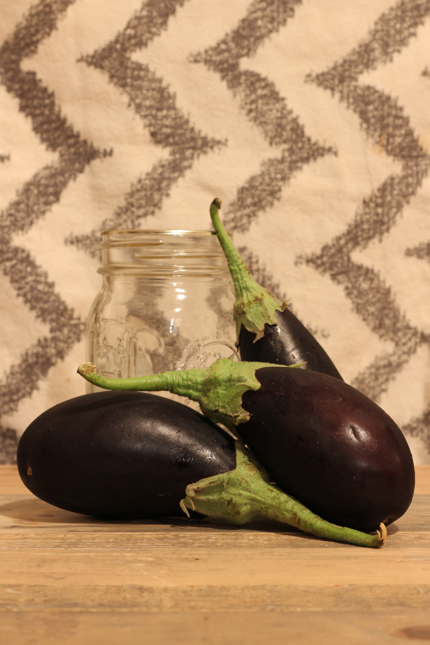 When you think of pickles, eggplant might not be the first vegetable to come to mind. But it is delicious and perfect for adding to sandwiches or to an antipasto platter. My dad uses a method passed down from his grandmothers. But after making pickled eggplant for decades, he does it more by feel and experience than an exact recipe. So, in this recipe I've used his method but added some structure adapted from David Chang's vinegar pickles recipe in Alice Waters' book In the Green Kitchen.
Happy pickling!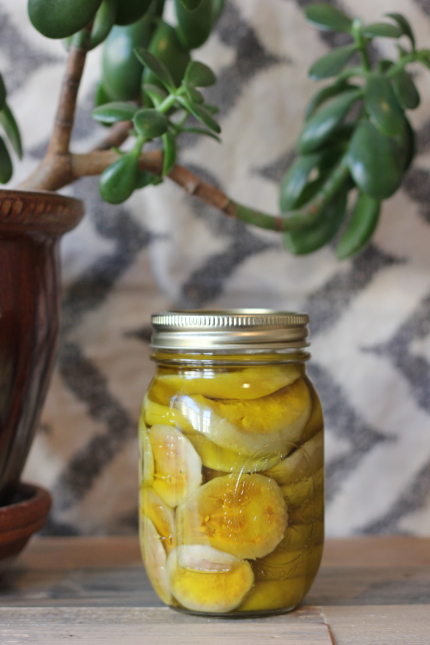 Pickled Eggplant
Ingredients:
3 small eggplants
1.5 c white vinegar
1.5 c water
2 T sugar
1 t salt
1 bay leaf
2 sprigs fresh thyme
1/2 t coriander seeds
Pinch red pepper flakes
Extra virgin olive oil
Instructions:
Peel eggplant and slice into disks approximately 1/4 inch thick. In a saucepan, combine vinegar, water, sugar, and spices and bring brine to a boil. Let cool to room temperature. Place the eggplant slices in a bowl and pour in the cooled brine to submerge all the eggplant slices. Place another bowl or a plate on top to keep them submerged and refrigerate overnight or for at least 12 hours.
Drain brine and squeeze each eggplant slice gently to remove excess liquid. Stack in a glass jar and fill the jar to the top with olive oil. Store in the refrigerator.