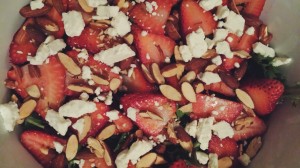 Spring is here! Cherry blossoms are beginning to bloom, the sky remains light into the evening, and the temperature is rising. However, spring means more than just beauty, rebirth, and an end to another wonderful winter, it also means strawberries! Mission Community Market welcomes back Yerena Farms to our Thursday market. Come by this week to grab a basket or three of this season's freshest organic strawberries!
Spring Strawberry Salad Recipe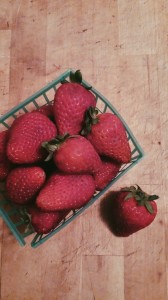 Ingredients:
Basket of fresh strawberries from Yerena Farms
Feta cheese from Achadinha Cheese Co.
Roasted Almonds from Winters Fruit Tree
Spring greens from Blue House Farm
Balsamic Vinaigrette: 1 part balsamic, 1 part organic olive oil, dried basil, and a dash of truffle salt to cut the acid
Directions:
Wash and dry the spring greens. Gently sliver the strawberries to display their beautiful insides and sprinkle on top of cleaned salad. Add crumbled goat cheese and chopped almonds. Drizzle with balsamic vinaigrette and enjoy with a side of buttered sourdough from Marla Bakery or a pasta dish from Home Maid Ravioli!