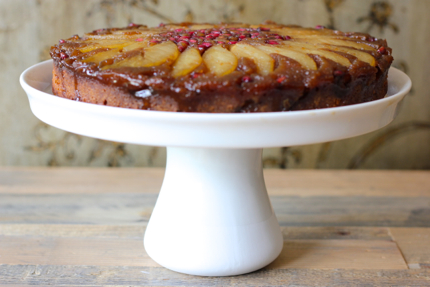 This gorgeous and tasty upside down cake is perfect for showcasing fresh, seasonal fruit. Forget any preconceived notions about upside down cakes – they don't have to be made with canned pineapple and maraschino cherries. This recipe is topped with delicious Yali pears from K&J Orchards and organic pomegranate from Twin Girls Farm. By decorating with fruit, you can serve a beautiful cake without requiring a lot of frosting or fancy decorating techniques.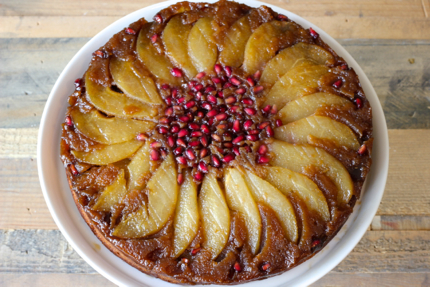 Don't forget to also pick up eggs from Great Valley Poultry and almonds from Winters Fruit Tree to use in this recipe. Happy baking!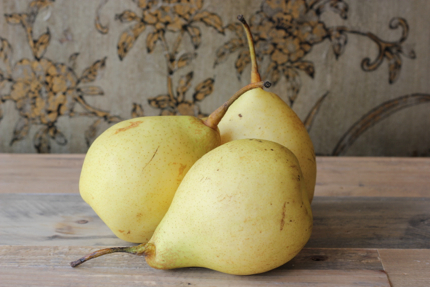 Pear Pomegranate Upside Down Cake
Ingredients:
For topping:
1/4 c unsalted butter
1 c packed brown sugar
2-3 pears (such as Yali pears from K&J Orchards)
1 pomegranate (available at the market from Twin Girls Farm)
For cake:
3/4 c unsalted room temperature butter
3/4 c sugar
3 room temperature eggs, beaten (available at the market from Great Valley Poultry)
1.5 c minus 1 T flour (measure 1.5 c and then remove 1 T)
1/2 t baking powder
1 T ground almonds (check out Winters Fruit Tree at the market for almonds)
1 T cocoa powder
3 T milk
Instructions:
Butter bottom and sides of a 9″ cake pan or spray with nonstick cooking spray.
Preheat oven to 350 degrees.
Topping:
Melt butter in a sauce pan. Add brown sugar and whisk until well combined. Spread the mixture evenly over the base of the cake pan. Peel pears, slice in half lengthwise, and remove cores. Slice each half pear lengthwise into approximately 1/8 inch thick slices. Peel the pomegranate and separate the arils. (It's easiest to slice the skin of the pomegranate and then place in a bowl of water to peel. The arils should sink to the bottom.) Arrange the pear slices in the cake pan on top of the brown sugar topping, around the edge of the pan pointing towards the center. It's ok to overlap the slices slightly. Fill in the empty circle in the center with pomegranate arils. One pomegranate will be more than enough – reserve extra arils for another use.
Cake:
Cream butter and sugar in a stand mixture with a paddle attachment (or by hand with a wooden spoon) until light and fluffy. Add one tablespoon of flour and mix well. Add the beaten eggs a little at a time, beating between each addition until incorporated. In a separate bowl, combine remaining flour, baking powder, ground almonds, and cocoa powder and whisk to mix. Fold dry ingredient mixture and milk into the mix of sugar, butter and eggs. Mix until there are no streaks of dry ingredients but do not over mix. Spread the cake batter over the pear and pomegranate topping in the cake pan. Bake for 45 minutes. Remove from the oven and allow to cool slightly. Turn out onto a serving plate by placing the plate over the top of the cake pan, flipping over, and removing the cake pan. Serve warm or cold.