Mission Community Market has been very lucky to welcome Mission High School students to the market as a part of the unique educational programming at Pie Ranch. This inspirational program aims to grow and nourish young community leaders for food justice through education and hands-on experience.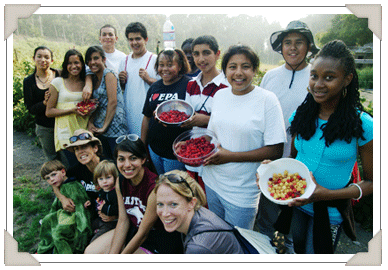 Lead by Rachel Vigil, this program focuses on entrepreneurship as a tool for community change and development. Students are currently creating a business plan to build a cafe on their school campus and use the revenue stream to support their schoolyard garden. Their long term goal is to build a larger farm behind the campus' football field.
Once a week, students take field trips to Pie Ranch where they talk about food systems, harvest produce, mill grains, and prepare all the goods that they sell at MCM on Thursdays. These goods include wheat berries, pancake mix, flavored salts, organic flour, and yummy jams. Students are able to get their hands dirty and connect not only with their food source but also each other.
This Thursday (August 1, 2013) will be Pie Ranch's final appearance at MCM for now, as this session of their student program is about to conclude. So come on out and show them some love!