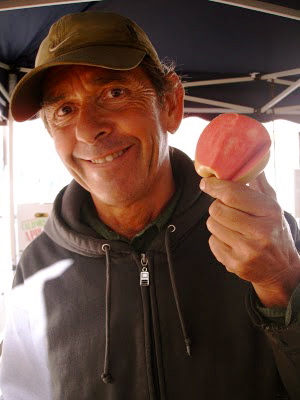 Location: Sebastapol, CA
Hale Apple Farm offers up to 30 varieties of apples from August through November.
Dave Hale is a 5th generation apple farmer. His great-great-grandfather William Ross, originally from Scotland, bought their land in Sebastapol in 1883. Dave grew up on the land, and in 1978 took over the business from his uncles. From August through November, Dave's trees yield up to 30 varieties of apples including Akane, Arkansas Black, Baldwin, Belle de Boscop, Bellflower, Black Jonathan, Black Twig, Braeburn, Cameo, Early Jonathan, Fiji, Gala, Hoover, Jonagold, King of Tompkins, Liberty, Macoun, Mitso, Northern Spy, Pink Lady, Pink Pearl, Pippin, R.I. Greening, Ramey York, Romes, Sierra Beauty, Spitzenberg, Std. Jonathan, Wagner, Winesap, Winter Banana, and Winter Permain.
Dave also grows plums, pears, pumpkins, and other fruit. He invites guests to visit Hale's Apple Farm for pumpkin picking season in the Fall.