Volunteering
is the foundation of MCM

What really sets our market apart from other farmers' markets is the way we foster a strong sense of community. Our farmers, volunteers, shoppers, community partners all work together to create a welcoming space each Thursday night. If that sounds like something you'd like to be a part of, we'd love to welcome you into our community of volunteers!
Volunteers are a huge part of what makes MCM run. Most of our volunteers help out on Thursdays at the market as greeters. This involves greeting the public as they enter the market, answering any questions that they have, selling t-shirts and bags, helping customers with EBT transactions (food stamps), and other general market help that might come up. We provide you with a training at the market. You don't have to come every week, but we love it if you can! We send out an email on Tuesdays calling for volunteers for the following Thursday.
We usually recommend that you try out a shift as a Greeter during a Thursday market. You may find that this is extremely fulfilling, or you may even seek more involvement! If this is the case and you don't mind getting your hands a little dirty, helping with setup or teardown are great options once you've learned the ropes.
Internship Opportunities
MCM also offers internships as we continue to grow as a community market. Interning with MCM is a great opportunity to gain experience with the inner workings of an independent, non-profit community market. Take a look at our job descriptions below for more information!
Public Market Assistant Internship
MCM Graphic Design and Communications Internship
Contact Us
Interested in joining our team of community members that make this happen? If so, please contact us!
————————————-
Agradecemos a todos los voluntarios de la comunidad! Si tiene usted interés de ayudarnos contáctenos.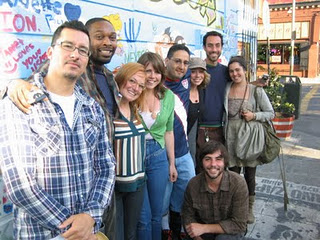 Thank you, amazing volunteers, for your invaluable contributions!