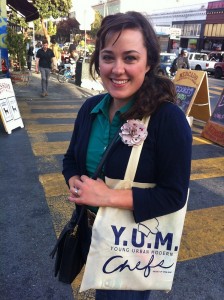 Over the past few months, you might have had the chance to meet Chef Leah Brooks of YUM Chefs at MCM, where she's been reaching out to members of the Mission community and letting them know about her local non-profit cooking school. Now she's hosting a cooking class for adults (21+) to help you get the most out of your farmer's market bounty! If you love shopping at MCM but want to improve your culinary skills, wonder how to best prepare the ingredients you buy from our amazing vendors, or just want to spend a night cooking with new friends, join her for this amazing class. Plus, since the class starts at 6 pm, you'll have plenty of time to enjoy the market beforehand!
YUM Chefs Farmer's Market Cooking Class for Adults!  
This October, spend a Thursday night cooking with the bounty of the bay area in the heart of the Mission. Chef Kyra will lead you on a tour of the Mission Community Market, teaching you how to find the best ingredients for a healthy and delicious vegetarian meal – and how to prepare them in a hands-on cooking class. You'll learn cooking basics (including knife skills), gain confidence in the kitchen, and gain comfort with the art of improvisation. Price includes a tour, cooking class, and family-style dinner, so you can enjoy your creations!
October 18th, 2012 6:00pm-9:00pm
Cost: $65 (must be 21 and older)
For more information, visit the YUM Chefs website.
To sign up, contact Leah at leahbrooks@yumchefssf.org
Deadline to sign up is October 14th.
Leah hails from Seattle where she graduated from culinary school and spent many years at some of the Pacific Northwest's most celebrated restaurants. After spending some time teaching children's cooking classes, she knew she wanted to take a break from cooking in restaurants so she could use her culinary mastery to teach kids! Leah was drawn to the Bay Area for its bounty of fresh ingredients and the edible education movement that originates here. If you haven't yet met Leah, come by the market this Thursday, October 11th to say hello!