By now, many of you know that Mission Community Market is no ordinary farmers market. Besides fostering community, promoting family health, and engaging local youth, our market helps local businesses thrive. MCM diversifies our vendors, reducing competition and providing a wide variety of hand-made, hand-grown products to everyone that enters. This week, we welcome our newest addition to the market: Crystal Eyes.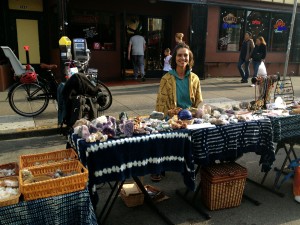 As a native to San Francisco, Maria Young has been vending on the street for many years. She began with working in health food stores, holding food demos at stores such as Rainbow Grocery, and learning the art of creating displays and the technique of sales. She was introduced by a friend to the owner of The Love of Ganesha on Haight Street where she made her first meaningful trade that got her into the crystal business. At a time in need, her friend loaned her crystals to sell on the street. This shop has provided the city with 16 years of giving, blessing those that enter, fostering community, and connecting people from all over the world. Maria is now a 'branch' of the store, sharing gems with everyone in SF and now at our very own market. For Maria, selling at MCM is all about
"the atmosphere, meeting people, and the experience"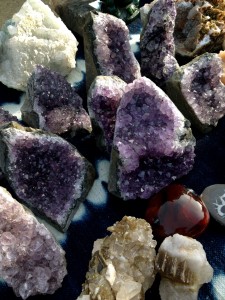 Each day, there are new people that are drawn to her, she watches the days change before her eyes, and loves seeing how these gems have the power to connect people. Though opening her own store isn't in her immediate plans, she's hoping to sell her wares at the Treasure Island Flea Market in the near future.
All of the items that lay upon her beautifully decorated table are naturally-found materials. She mainly sells crystals, jewelry, incense, sage, and palo santo at the market each Thursday from 4-8pm. Stop by this week and strike up a conversation with this San Francisco native!