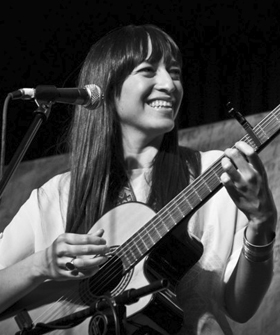 September 15th through October 15th marks a month-long celebration of Hispanic Heritage spanning across Mexican, Central American, and South American cultures. Help us prepare for this vibrant and exciting time of cultural celebration by welcoming two extremely talented Latino musical acts to Bartlett Street this Thursday beginning at 4pm. First up will be Diana Gameros, originally from Ciudad Juárez, México and now living in San Francisco. Diana is an Alternative Latin singer and songwriter who creates inspiring music that reflects the 21st century experiences of a young indie artist at the borderlands between cultures, languages, and genres. Come hear her music at MCM as she prepares for her upcoming performance at the Herbst Theatre on Sunday, September 30th where she will open for Brazilian singer Bebel Gilberto.
Second up this Thursday evening will be Makrú, playing at 6:30 pm. Their group is made up of talented musicians from Mexico, Spain, the US, and El Salvador, blending elements of Cumbia, reggae, rock, flamenco, and more.
Both of these musical acts are sure to bring exciting, vibrant music to the Mission Community Market this week. You definitely won't want to miss these performances. See you this Thursday and don't forget your dancing shoes!