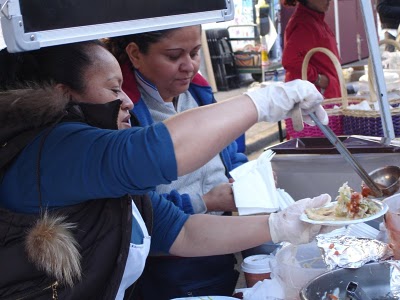 Claribel and Hilda of Antojitos Salvadorenos Aminta
Aminta Calderón and her family set up Aminta's Antojitos Salvadoreños inside the Mission Market about five years ago. On Thursdays, they set up a stand in the Mission Community Market for passersby looking for a savory hot pupusa, empanada or pastel to fuel their promenade. The pupusas are made of corn masa and stuffed with cheese, beans and/or chicharrón (pork cracklings). Aminta has lived in the Bay Area for 15 years now, and commutes out of Daly City. "It's a real family business. Among the employees are my nephews, nieces, grandchildren, and husband, who all work in the restaurant." At the outside stand, Claribel and Hilda (who are not family) expertly and expediently deliver the food to patrons. They are tough women, who know how to handle a crowd. I ask Aminta if she learned how to make pupusas in El Salvador. She says, yes. I pry a bit more, "Did your mother or aunt or grandmother teach you?" She laughs and delivers a wry smile, "La Señora Hambre me enseño cómo hacer pupusas; la mejor maestra." "Madame Hunger taught me how to make pupusas; she is the best teacher". I startle wondering about what other stories Aminta holds in her apron pockets. I order two pupusas for home with repollo (a cabbage and carrot coleslaw with vinegar) and salsa. Later at home, munching into my pupusa, I delight in thinking that I am biting into handmade food made from a recipe of life.
by Adriana Camarena
Eat Antojitos Salvadorenos at the Mission Community Market
Every Thursday 4-8pm – Bartlett Street and 22nd.