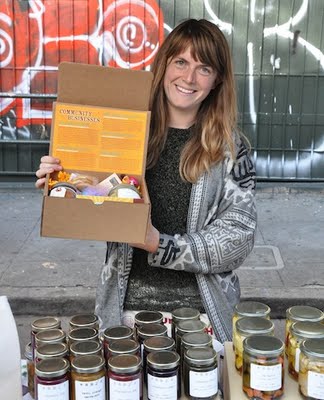 The Mission Community Market grew this season in an ancient culinary art: preserving food through pickling, brining, curing, and smoking. MCM is proud to offer Emmy's Pickles and Jams, the Zografos' Olive Healthy, Richie Nakano's Hapa Ramen, and Charlie's Coastside Farm's Salmon and Lox!
Picklers and curers have traditionally helped humankind through the cold, with fruit, vegetable and meat preserves –often improved in vitamin B by the preservation process. And, while we may associate food preservation with the Winter months, the preserver's craft truly begins, right now, in the peak harvest season of Summer through Fall! At the market, you'll find many of the same fresh fruits and vegetables that end up in the preserves, jars and pies for sale a couple of tents down. Come around to meet some of our artisan preservers!
Emmy learned her craft at home. Pickling was a family activity when she was a kid: sterilizing jars, creating the perfect brine, chopping and cooking and canning; everyone had a part. Emmy had been a food activist for several years, when her friends began to rave about her pickles. Emmy started wondering: Could she create a small business out of a craft she simply loved to share? With the help of enthusiasts buying her pickling art, she's thrown down a root in the Mission Community Market. Emmy gets her inspirations from a variety of worldly cuisines, bringing us jars of Mexican jalapeños with carrots and onions, Boston bread and butter pickled cucumbers, and Indian turmeric Cauliflower. She also makes harvest fruit jams. The produce she picks is organic and local, sometimes from the same farmers at the market. Last year, she made jam with Twin Girls Farm plums. As soon as she began selling, all the plum jars were harvested right off her stand by eager market visitors. (She's going to make a larger batch this year.) She also makes jams with Tay berries from Yerena Farms, and apricots from Arata Farm. You can visit all three farm stands here in the MCM! We also can't rave enough about Emmy's jalapeño jelly, which goes great with anything in need of a savory-sweet kick. Emmy's been doing so well since beginning at MCM, her There's another thing I should mention about Emmy… She has sunshine in her smile. So stop by her stand for her story and preserves.
Next in MCM Preserves Tradition: Olive Healthy's California Olive Oil