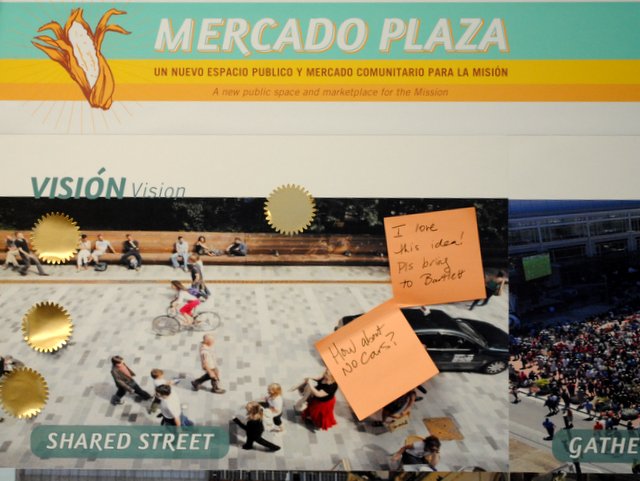 This past Wednesday night, May 16th, neighbors of the 22nd Street and Bartlett area met at the CCSF Mission Campus for an information session and brainstorming workshop on plans to redesign Bartlett Street. A partnership of MCM, the Rebar Group and CARECEN is coordinating with project sponsors of the "Giant Value" development at 2558 Mission (with an entrance on Bartlett) to secure funding for the planned improvement, which is a product of ongoing feedback received by the Mission Community Market since 2010.

Led by ReBar designer John Bela and Mission Community Market Executive Director, Jeremy Shaw, Wednesday night's session focused on gathering ideas for the proposed street redesign from workshop participants and Bartlett Street neighbors. Victor Marquez, representing Oyster Development, gave an overview of the "Giant Value" redevelopment project, as well as the planned reconstruction of the adjacent New Mission Theater and historic marquee by Alamo Drafthouse Cinema. Primary concerns from the neighborhood include making the area safer, more family-friendly, and friendly to small businesses.
A variety of ideas, options, and concerns for Bartlett Street's streetscape were presented at the workshop by project coordinators and participants, including:
Stormwater management and permeable surfaces
Pedestrian improvements
The potential to build out the project in phases as more funding is secured
Making Bartlett Street a gathering spot for a school-aged "walking schoolbus"
Making space or play structures for children and families
Better lighting
Protect existing public housing
"Shared Street" – vehicle access for loading/unloading and garages
Engage the local library and local businesses. Improving street condition could help business!
Use temporary improvements like mobile planters or vendor stalls in the interim development phase – don't wait?
Since what it means to "improve" Bartlett Street is open to interpretation, gathering opinions from neighbors and stakeholders is very important. In order to facilitate this ongoing process, the MCM will be asking market-goers and neighbors to share their ideas with us for the next few weeks. We want to know what your top priorities are in any potential redesign. Make sure you check out the concept drawings, ask us questions about the Bartlett Street redesign project, and add your own ideas to the board when you stop by the Market!
See you there – every Thursday from 4-8 PM.
Please see the concepts discussed online.