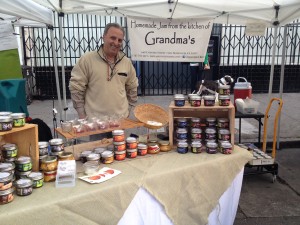 As you travel though the market each Thursday, you may notice a man with an electric smile. Staged before him are a variety of colorful jams, arranged neatly in rows. As you approach the stand, you may notice his smile growing wider as he hands you a taste of one of his homemade jams. Each of these jams has been hand-crafted by Fadi Malouf  and his products are always free of preservatives. How Fadi Malouf arrived at making jam helps one understand the true passion that lies in each of these jars.
"Fruit and sugar fuels the energy between the people and me at the market, with only a jar in between"
After suffering from a near fatal accident as an industrial-fuel engineer in Lebanon, Fadi retired early and traveled to San Francisco merely ten days before 9/11. Initially just visiting family members, he was captured by the beauty of the bay and made the decision to stay due to the impending wars in the Middle East. Each Saturday, Fadi visited a local farmers market to connect with the farmers, the city, and his community. One Saturday he came across a large box of figs which was sold to him for a mere $20. Fadi said, "this box spoke to me, I don't know what it was, but I just knew I had to buy it." From this one box, Fadi made 43 jars of fig jam with the assistance of his grandmother via telephone in Lebanon. As a young boy, Fadi would help his grandmother make jam for sale at local markets which enabled her to make extra money during World War II.
These 43  jars were dispersed among family and friends who then inspired him to continue making jam to sell at his cousin's cheese boutique. Customers started to inquire about the jam and eventually his jam reached a customer who happened to organize the Artisan Markets for Williams-Sonoma. He began to travel all over the Bay Area selling his jams at these Artisan Markets and now, three years later after that first fig purchase, Grandma's Homemade jam is sold at twenty-one stores, six farmers markets, and is also available for purchase through Good Eggs.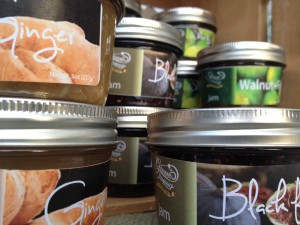 For Fadi, the act of making jam is nostalgic and comforting, as most of his recipes having been passed down for generations and now grace our own community market! Currently he has twelve flavors, the newest being Ginger jam! Take some of Grandma's Homemade jam home today to truly understand the love and care that is put into each jar. To hear his story firsthand, stop by the Grandma's Homemade stall at MCM each Thursday from 4-8pm or check out his Facebook page for more information.