Love in every bite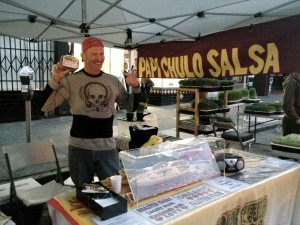 There is never a dull moment at Mission Community Market and thanks to Roberto Biggs at the Papi Chulo Salsa stall, the vibrancy radiates from 4-8pm each week without fail. Inspired by the salsa at a local Mexican restaurant, Roberto Biggs tested out many different recipes to try to replicate this spicy treat. Through many years of trial and error (like deciding whether to roast merely half of the garlic or the entire head) and balancing the proportions of the ingredients, seven and a half years later he has created what he believes is the perfect salsa. Many blind taste tests were done with the help of friends, relatives,  and local business owners. Finally, the salsa went commercial on March 31, 2013. Now one year later, Papi Chulo Salsa can be found at farmers markets in San Mateo, The Castro, Glen Park, and of course our very own Mission Community Market. His products are also found in Aisle 3B at Rainbow Grocery, and has been highlighted on three radio shows with a future TV debut lined up for April 17, 2014 @ 4:30 KOFY TV 20 on Earth Day.
Papi Chulo Salsa is unique because it's more than just a condiment. This salsa can make the simplest recipes come alive. You can add Papi Chulo Salsa to your tacos, pizzas, sopes, nachos, burritos, pastas, ceviche recipes, and more. There are four varieties of his salsa: mild, medium, hot, and very hot. All the ingredients are sourced locally, organically, and sustainably. Roberto produces roughly 200 liters of salsa per week and individually bottles each batch immediately after production to ensure that the salsa remains at its freshest state. But shh…the secret ingredient in this amazing salsa is not onions, but oranges! Combined with heirloom tomatoes from San Benito Farm, the salsa dances uniquely on the tongue thanks to the extra tang of citrus.
What can Mission Community Market and the patrons of Papi Chulo Salsa expect in the future? Chips! Roberto plans to hand-make his own salsa chips, with all future proceeds donated to the Breast Cancer Emergency Fund in honor of his mother. On a larger scale, expansion is the goal for Roberto Biggs, who hopes to expand past the Bay Area and into Southern California and Sacramento in the next five years. With a ten year plan of expanding coast to coast, Papi Chulo Salsa hopes to grace your table with its presence wherever you travel in the near future! Come on down to MCM each Thursday from 4-8pm to dance a few salsa steps with Roberto Biggs while you sample his amazing salsa!