Pumpkin Chocolate Chip Cookies
by Anna of Three Babes Bakeshop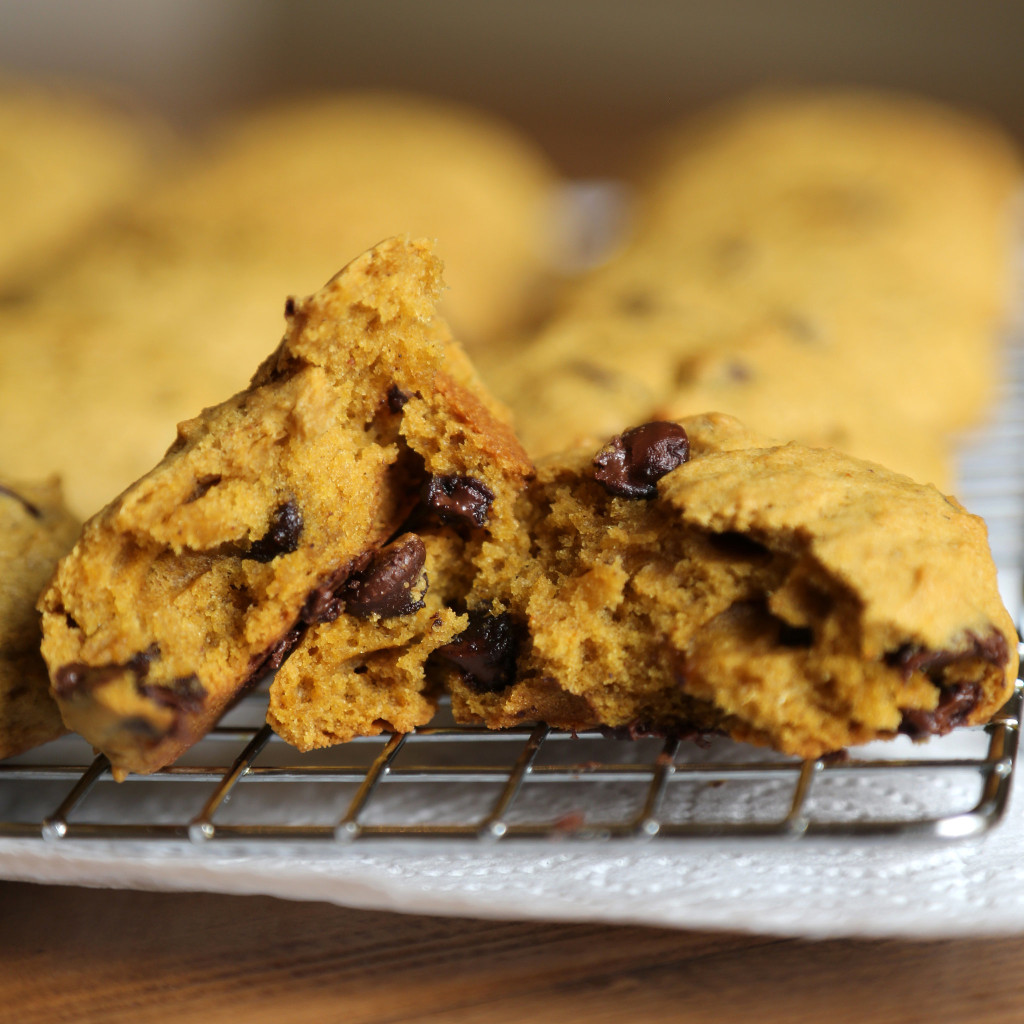 For the pumpkin puree:
1 small sugar pumpkin, or other culinary pumpkin from Blue House Farm
Heat the oven to 350ºF. Remove the stem from the pumpkin, cut in half, and scrape out the insides.
Lay the two sides cut-side down on a rimmed baking sheet or in a large baking dish, and add just enough water to the dish to submerge the pumpkin in about ¼-1/2 inch of water, depending on what your pan will hold.
Bake until fork tender, about 1 hour, checking occasionally, and adding more water as needed. Let cool.
Scoop the pulp from the roasted pumpkin and puree in a food processor or blender until smooth. You will have more than enough for this recipe, so use for more cookies, or freezer and use later for pumpkin soup, pumpkin bread, or pumpkin pie!
For cookies:
1 cup unsalted butter, or two sticks, softened
½ cup sugar
¾ cup plus 2 Tablespoons brown sugar
2 eggs
1 teaspoon vanilla
1 cup pumpkin puree from fresh pumpkin!
3 cups all-purpose flour
2 teaspoons baking soda
½ teaspoon salt
1 teaspoon ground cinnamon
½ teaspoon ground ginger
¼ teaspoon ground nutmeg
¼ teaspoon ground cloves
2 cups chopped dark chocolate, or semisweet chocolate chips
Heat the oven to 350ºF. Spray cookie sheets with nonstick spray or line them with parchment paper.
Beat the butter until smooth using a standup mixer fitted with a paddle attachment, or simply in a bowl with a whisk. Beat in the white and brown sugars, a little at a time, until the mixture is light and fluffy.
Beat in the eggs 1 at a time, then mix in the vanilla and pumpkin puree.
Separately, in a large bowl, whisk together the flour, baking soda, salt, cinnamon, ginger, nutmeg, and cloves. Slowly beat the flour mixture into the batter in thirds. Stir in the chocolate by hand.
Scoop the cookie dough by heaping tablespoons onto the prepared cookie sheets and bake for 15 to 20 minutes, or until the cookies are browned around the edges.
Remove the cookie sheets from the oven and let them rest for 2 minutes. Take the cookies off with a spatula and cool them on wire racks.
Yield: Approx. 60 cookies