We often think that the Winter months bring us a lack of variety in the kitchen. How do we make our meals fun and interesting and into something delectable we want to eat? The answer is simple. Vegetables.
California's bounty is incomparable and not to be taken for granted. From a variety of greens to colorful root vegetables, we still have a lot of produce options before spring rolls around. Don't get discouraged. Focus on finding amazing fresh ingredients (found at your local farmers' market) and the meal practically makes itself. Here is a veggie medley inspiration for you. Modify as you like!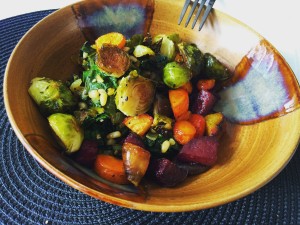 This meal was made in 3 parts. Makes 3-5 servings, depending on how hungry you are!
Prep Time: 30 mins. Cook Time: 1 hour.
Root Medley
1 Bunch Golden Beets
1 Bunch Red Beets
1 Bunch Carrots
Olive Oil
Salt + Pepper
Red Pepper Flakes
Lemon Zest
Cut off Beet greens and put aside for Sautée (later). Cube beets and carrots to similar size. Mix in bowl with olive oil, salt, pepper, red pepper flakes, and lemon zest. Spread evenly on cooking sheet. Bake in Oven at 365° F for 45-50 mins.
Roasted Brussel Sprouts
3-4 Cups of Brussel Spouts
Olive Oil
Salt + Pepper
Red Pepper Flakes
Lemon Zest
2 Tablespoons Nutritional Yeast or Parmesan Cheese
Clean and chop Brussel sprouts in half, if desired. I find it absorbs more flavor when they are chopped in half but usually just chop the bigger brussels. Mix in bowl with olive oil, salt, peeper, red pepper flakes and lemon zest. Spread evenly in cooking pan. Sprinkle nutritional yeast/ parmesan cheese on top. Cover in aluminum foil and poke a few holes in foil for ventilation. Cook covered in oven at 365°F for 30 mins. Uncover, stir it up a bit and cook for another 30 mins! Yum.
Beet Green Sautée
Beet Greens from your 2 Bunches of Beets
1/2 Cup Pine Nuts (Or Walnuts)
1-2 Cups of Shitake Mushrooms
1 Medium Onion
3 Cloves Garlic
Olive Oil
Salt + Pepper
Sautée can be done while everything else bakes! Yay for time-saving.
Chop up onion and garlic and start the sautée with Olive oil on Medium heat. Add Shitake Mushrooms and pine nuts and let cook about 5-7 minutes. Chop up beet greens and add to your sautée. They cook down a lot! Add your salt, pepper and other herbs you like to taste! Cook 'til beet greens have cooked down a bit but are not soggy (about 5-8 minutes more).
Now that you have your three components, add them in equal parts on top of rice or lentils. And enjoy!