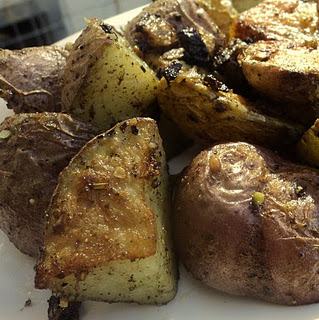 Here's a super-easy potato recipe using Sensory Revolution's Green Herbal Mix. Because this unique herb mixture includes very finely-ground herbs, it blends easily with the oil and coat the potatoes extra-well, resulting in much brighter, bolder flavor than regular dried herbs.
Serve these alongside eggs for breakfast or brunch or with roasted chicken for dinner.
Ingredients
1 lb new potatoes, scrubbed and quartered
2 shallots, chopped
2 tbsp extra virgin olive oil
1 tbsp Sensory Revolution Sensational Seasonings Green Herbal Mix
salt and pepper to taste
Directions
Preheat oven to 375 degrees F.
Mix all ingredients in a mixing bowl. Toss well to ensure all potatoes are well-coated with the herbs, oil, salt and pepper.
Bake for 15-18 minutes or until potatoes are golden brown and fully cooked.
Serves 4-6.