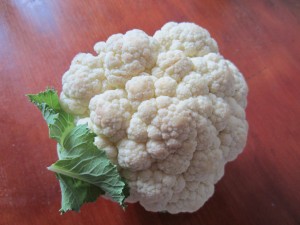 I made these delicious cauliflower fritters with a cumin yogurt sauce for a holiday party last year, and they were gone within minutes.  With such beautiful cauliflower available at Blue House Farm, I knew that I had to share this recipe with you.  A big thank you to Deb at Smitten Kitchen for creating such an amazing recipe that I've modified slightly for this post.
While the recipe said that this makes 18 fritters, I came out with 12–perhaps my scoops are too generous! As these flew off the plate at my party, no one would be sad if you doubled the recipe. You'll need:
1 small head cauliflower
1 large egg
3 garlic cloves, minced
Gratings of fresh lemon zest
3 oz crumbled feta
1/2 cup all purpose flower (feel free to sub with gluten free flours!)
1/4 tsp pepper flakes
3/4 tsp table salt or more to taste
1/ 2 tsp baking power
Olive oil for frying

Yogurt Sauce:
3/4 cup yogurt
1/2 tsp ground cumin
Salt & Pepper to taste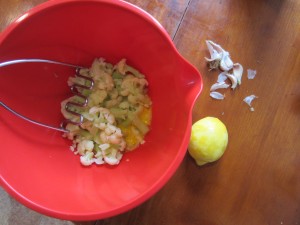 Start by cutting the cauliflower into 1 inch chunks, and then cook it in simmering salted water, uncovered, for about 5-6 minutes.  Dump into a colander and drench with cold water to stop them from cooking.  Drain well.
In a large bowl, whisk together the egg, minced garlic, and lemon zest.  Add your cauliflower florets and mash with a potato masher until the pieces are about the size of a pea.  Sprinkle the crumbled feta into the wet ingredients and mix together.
In a separate bowl, mix the flour, salt, pepper flakes, and baking power.  Stir the dry ingredients into the wet ingredients until just combined.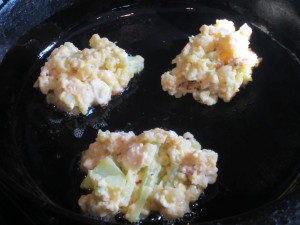 Heat the oven to 200 degrees and place a tray inside to keep your fritters warm after they come off the skillet.  Heat a cast iron griddle or pan over moderate heat, and once hot, add about 2-3 tbs of oil.  Once the oil is hot, scoop a tablespoon-sized mound of batter into the pan (she suggests 2 tbs scoops, but I think a little smaller is better), and flatten into a patty with your spatula.  Leave a couple inches between each scoop.  Brown on one side for about 4 minutes, and then flip them over to brown the other side, about 3 minutes.
Transfer your finished fritters to the pan in the oven for as long as you need them to stay warm before you serve them.  To make the yogurt sauce, mix together the yogurt, cumin, and salt & pepper to taste.  When you are ready to wow your guests with these fantastic fritters, spread them out on a serving platter and add a dollop of sauce on each fritter.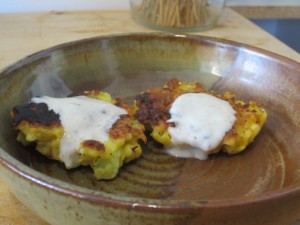 The recipe calls for a couple of pomegranate arils on each fritter which add nice color and a touch of sweetness.  I didn't have the poms available this time around, but they still turned out yummy. Feel free to experiment with what's in season to add a hint of sweetness to each fritter.  No matter what, your guests will be wowed by your fritter prowess with this great recipe.