Delicata squash are available at Tomatero Farm and Blue House Farm! These striped beauties are sometimes referred to as sweet potato squash because they taste sweet and creamy. As the name suggests, Delicata squash have delicate, edible skin making them very easy to prepare. No need to remove a thick skin like other squash varieties. Simply slice in half lengthwise, scoop out the seeds, roast with the skin on, and enjoy!
The simplest preparation for Delicata is to slice each half into pieces approximately 1/2 inch wide and toss with olive oil to coat, then sprinkle with salt and pepper. Then roast at 400° F until tender and slightly browned and caramelized, about 40 minutes.
Another option is to cut into quarters, brush with cream, and sprinkle with parmesan cheese and sage. See the full recipe after the jump.
Both versions make a delicious addition to a fall meal, and they are also vegetarian and gluten-free which makes this dish great for bringing to holiday potlucks.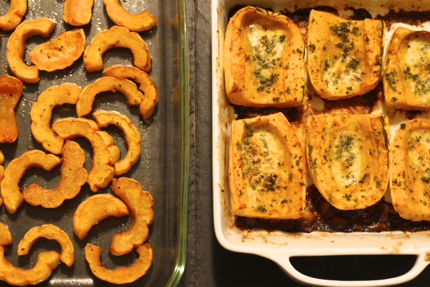 Roasted Delicata squash with cream, parmesan and sage
Adapted from The Yellow House blog (citing The Glorious Vegetables of Italy by Domenica Marchetti)
Ingredients:
2 Delicata squash
1/4 c heavy cream
1/4 c grated parmesan cheese
2 t minced sage
Salt and pepper to taste
Instructions:
Preheat oven to 400 degrees. Cut each squash in half lengthwise, scoop out the seeds, and cut in half crosswise to quarter each squash. Arrange cut side up on a baking dish. Generously brush each piece of squash with cream, then sprinkle with parmesan and sage and season with salt and pepper. Bake until tender and lightly browned and cream is thickened, about 40 minutes.
Photos by Carletta Wong