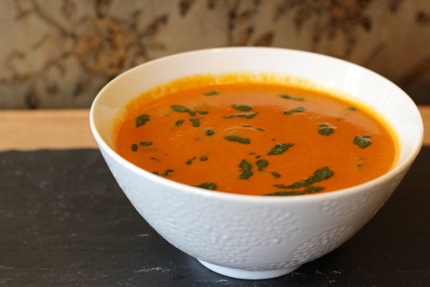 Delicious carrots are in season at the market! Celebrate the tasty root vegetable by making this sweet, creamy carrot soup. And don't throw away the green, leafy carrot tops – you can use those to make fresh pesto that tastes great drizzled over the carrot soup. Pick up a bunch of carrots from Blue House Farm this week at the market and try it out!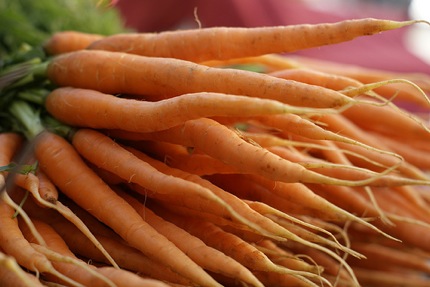 Carrot flavor really shines in this soup made with both carrots and carrot juice. The carrots are cooked in a pressure cooker, resulting in richly browned and caramelized carrots thanks to the addition of baking soda that triggers browning reactions. Plus carrots are at their sweetest in the winter when the cold encourages conversion of starches to sugars, making it an ideal time to enjoy this soup.
Full recipes are after the jump!
Caramelized Carrot Soup
From Modernist Cuisine at Home
Ingredients:
5 c carrots (approx. 1 pound or 1 bunch from Blue House Farm)
½ c + 3 ½ TB butter, divided
1 ¼ tsp salt
3/8 tsp baking soda¼
1/8 cup water
2 ½ cup carrot juice
Instructions:
Cut off carrot tops and save for carrot top pesto (recipe follows). Peel carrots, cut into approximately 2 inch pieces, and quarter each piece. It's optional to slice away any tough or fibrous cores (this is recommended to avoid a bitter aftertaste). Melt .5 cup butter in a pressure cooker. Combine salt, baking soda, and water, then add to the pressure cooker with the carrots. Stir to combine. Pressure cook at pressure of 1 bar / 15 psi for 20 minutes, then depressurize the cooker. Puree the caramelized carrots in a blender or food processor until smooth. Strain the puree through a fine mesh strainer.
In a separate pot, bring the carrot juice to a simmer. Stir in the caramelized carrot puree. Add water if necessary to thin to the desired consistency. Remove from heat. Add the 3.5 T butter and use an immersion blender to blend until the butter has just melted.
Serve warm. Drizzle with carrot top pesto.
Carrot Top Pesto
Adapted from Bon Appetit
Ingredients:
Leafy green tops from 1 bunch (approx. 1 pound) carrots
1 T pine nuts
½ garlic clove
3 TB parsley or arugula
4 tsp finely grated parmesan
2 ½ TB extra virgin olive oil
Salt and pepper to taste
Instructions:
Pulse nuts and garlic in food processor to form a coarse paste. Add carrot tops, parsley or arugula, and parmesan and process to form a coarse puree. With the processor running, add the olive oil in a stream and process until well combined. Season with salt and pepper to taste.