As a self-described cheese fiend, I'm always looking for fun new ways to incorporate cheese into just about every minute of my day. While many of us may think of cheese mainly as a savory snack, pairing a subtly salty cheese with a basket of vine-ripened berries is actually one of my favorite things about summer. Both of MCM's cheese vendors–Achadinha Cheese Company and Spring Hill Cheese–offer cheeses that pair deliciously with what's in season right now, like blueberries from Rainbow Orchards or raspberries, strawberries, and blackberries from Yerena Farms.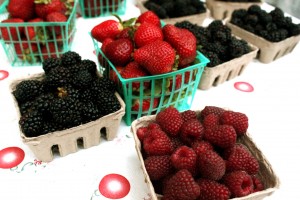 Achadinha carries several goat's milk cheeses, but my favorite is Capricious, an aged cheese hand-rolled in the European style. The following recipe from
Achadinha's website
offers a simple way to combine it with the freshest summer fruits.
Read more