Microgreens: A shot of vitamins
As you approach the market from Valencia and down 22nd street, you may see what appears to be a stall full of lush grass and a happy smiling man. This is one of Mission Community Markets newest vendors, Lifefood Gardens, and the smiling man you see there each Thursday is Loren. He represents his girlfriend Katy's business of growing and selling a variety of microgreens. They began growing microgreens in a sprout machine, and eventually moved to growing these baby plants in their bathroom, kitchen, and various other places in their small SF apartment for personal consumption. Katy, who has been a raw foodist for 13 years, developed an innate passion for growing microgreens within her home. When Katie got fed up with working in the software world, she decided to begin a garden. After success with their small personal microgreen operation, they purchased land up north in Lake County and built a large greenhouse to begin their dream garden. They originally planned to grow off-season tomatoes, but found that microgreens provided them with a financially viable and consistent harvest, as well as nutritious and delicious food. One and a half years later, they've grown their business to reach across the entire Bay Area, serving ten different farmer's markets (six here in SF alone).
SF Markets
Thursdays: Crocker Galleria, Mission Community Market (!!)
Sundays: Fort Mason, Divisadero, Clement, and Sunset markets
Outside SF
Saturdays: Oakland Grand Lake, Berkeley, College of San Mateo, and the Saratoga markets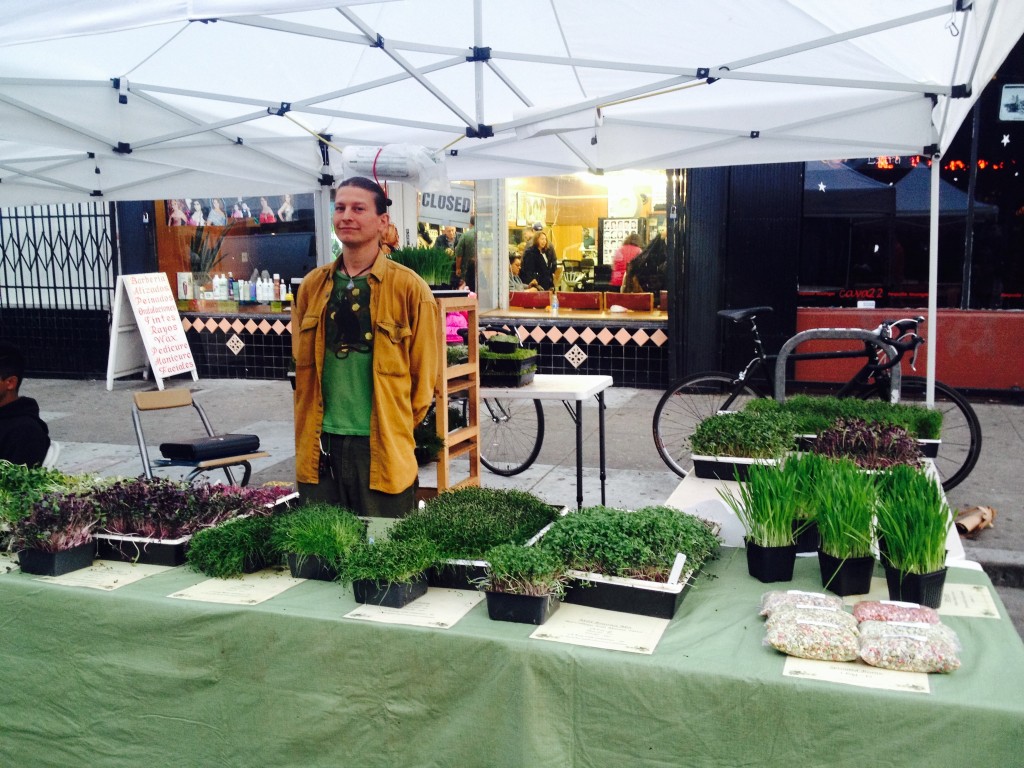 Microgreens are just what they sound like –baby versions of many of the greens you know and love. Many studies show that microgreens may house more nutrients and vitamins than their adult forms, making microgreens an affordable option to get your daily dose of vitamin C, E, and beta carotene to name a few.
Stop by MCM each week on Thursday from 4-8pm to pick up a tray of microgreens to improve your health, boost your immunities, support a local business, and make a friend. Some of the different varieties include sunflower, garlic, onion, broccoli, mixed greens, radish, wheatgrass, and more. Not sure what to do with these fresh greens? Check out this week's recipe highlighting sunflower microgreens in a healthy salad!