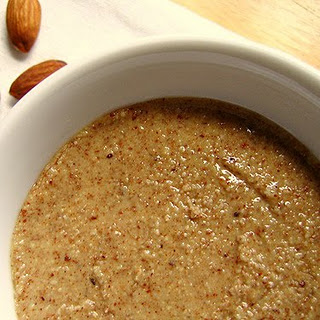 The multitude of raw, roasted and flavored nuts from Winters Fruit Tree
is astounding. Nuts contain heart-healthy fats, antioxidants, fiber and protein, making them an excellent snack choice, salad topper, cookie add-in…and so much more.
Yet another way to enjoy nuts is to puree them into a fresh nut butter. A great alternative to peanut butter (not to mention an excellent choice for those allergic to peanuts), this nut butter is nut butter is delicious spread on toast, with jam, or even warmed and spooned over ice cream. Plus, unlike jarred nut butters, you can control just how creamy, chunky, salty or sweet it is.
Here's a lovely basic almond butter recipe (it can also be made with walnuts, cashews, peanuts–pretty much any nut). For best results, use roasted almonds. If you prefer buying raw almonds, roast them at home first, for 10-12 minutes in a 375 degree (F) oven.
Ingredients
1 cup roasted almonds
1 tbsp vegetable, canola, grape seed or other flavorless oil
salt to taste (optional)
pinch of sugar (optional)
Directions
Place almonds in a food processor or blender and process until almonds are very finely ground. Reserve a few almonds and roughly chop them if you prefer a chunkier nut butter.
Slowly stream the oil in, just until a very wet paste forms.
Flavor with salt and/or sugar if desired.
Store in an airtight container for up to 3 weeks.
Makes 3/4 to 1 cup of nut butter.