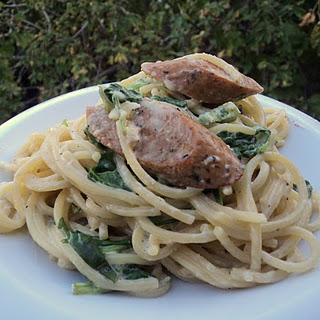 This easy dish really is testament to the fact that if you keep your refrigerator stocked with a few high quality, fresh ingredients, throwing a delicious dinner together can be a snap.
Pick up some fresh chilies (poblanos, jalapeño, chilaca–whatever you like) at the MCM's Blue House Farm booth. Grab a little fresh spinach and a bulb of garlic from Happy Boy Farms and some chicken breasts or fresh sausage links from the Mission Market's Fish and Poultry counter right next door. Just add pasta and you'll have a delicious budget gourmet meal that can easily feed a group.

Ingredients
16 oz. dried spaghetti
3 tbsp extra virgin olive oil
3 sliced grilling sausages or 2 boneless, skinless chicken breasts, sliced
4 cloves garlic, chopped
1-2 seeded, diced fresh chilies (keep the seeds intact for spicier pasta)
salt and pepper to taste
3 cups fresh baby spinach
1/2 cup grated Parmesan cheese
1 cup half-and-half
Directions
Boil the spaghetti in salted boiling water according to package directions until al dente.
While the pasta cooks, heat the olive oil in a large frying pan over medium heat. Add the sliced sausages or chicken breasts and cook for 2-3 minutes. Add the garlic and chopped chilies, season with salt and pepper to taste and stir well to integrate. Cook mixture 1-2 minutes, making sure to watch the garlic carefully to make sure it doesn't burn.
Once the pasta has finished cooking, drain it and add it to the pan. Mix well using tongs and toss it around to coat the pasta with the now-seasoned oil. Add the baby spinach and toss with the pasta, encouraging the spinach to wilt slightly.
Reduce heat to medium-low, sprinkle Parmesan over pasta and toss well. Add the half-and-half and continue tossing the pasta as the half-and-half and Parmesan thicken into a creamy sauce. Once sauce is rich and thick, taste for salt and season once more if necessary.
Serve hot.
Serves 4-6.