After last week's gazpacho recipe, I thought I'd share another one of my favorite dishes I came across when I lived in Barcelona. Tortilla de patatas is a staple in Spanish households and perhaps one of the best-known Spanish dishes.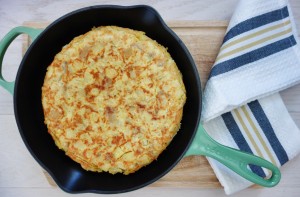 Locals eat it for breakfast, lunch or dinner and every self-respecting tapas bar has it in its repertoire. It's incredibly easy to prepare with only 3 main ingredients: potatoes, eggs, and onion.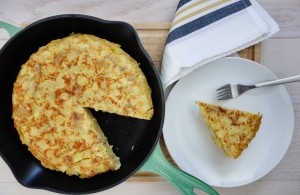 You can eat it warm or cold, serve alongside some castelvetrano olives or a fresh bagel.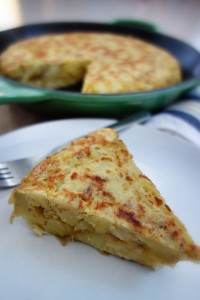 Ingredients
5 medium potatoes, peeled and diced
1 medium onion, diced
5 eggs
salt and pepper to taste
4+2 tablespoons olive oil
Directions
Mix together diced potatoes and onion in a bowl and season with salt and pepper.
Heat 4 tablespoons of olive oil in a skillet and add the potato-onion mixture.
Cook, turning occasionally, over medium heat until potatoes are soft.
In a large bowl, whisk the eggs with a pinch of salt.
Add the cooked potato-onion mixture to the eggs, and stir to coat evenly.
Heat the remaining 2 tablespoons of olive oil and add the egg-coated potatoes to the skillet, spreading them evenly to cover the base of the pan.
Once the mixture is half set (you can test this by shaking the skillet), cover the skillet with a large  plate and flip the tortilla onto it. Then, slide the tortilla back into the pan with the uncooked side facing down.
Cook until the second half of the mixture sets as well.
Allow it to cool slightly, then cut into wedges and serve.
*Eggs from Great Valley Poultry, potatoes from Happy Boy Farms, onions from Blue House Farms, optional olives from Home Maid Ravioli, optional bagels from Marla Bakery.