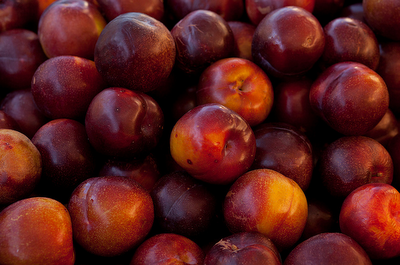 Plums, or Pluots from Twin Girls, and Almonds, from Twin Girls or Winter's Fruit Tree, come together to make an easy and elegant dessert for your next dinner party. Try this delicious seasonal recipe brought to you by Mission Mercado!
4oz Almonds
4oz Butter (room temperature)
4oz Sugar
2ea Eggs
2oz Flour
4ea Plums or Pluots
Preheat oven to 375. Combine the Almonds, Butter, and Sugar in a food processor until a thick paste forms, and then add Eggs. Add Flour and pulse just combined then scrape batter into a greased cake pan and rap against the counter to level out. Slice Plums or Pluots into wedges and arrange decoratively on top. Bake for about 20 minutes or until a toothpick comes out clean and cake is nicely browned. Let cool before slicing, and maybe serve with some lightly sweetened whipped cream. Et voila!