With the ever-growing popularity of going gluten-free, the Mission Community Market is excited to be offering more and more wheat-free options for those with gluten sensitivities!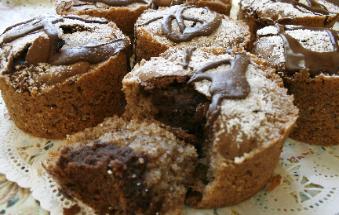 In June, Flour Chylde Bakery joined MCM, bringing with them tortes and cakes made entirely without wheat, rye, barley, or oat flours. Though they are not an entirely gluten-free bakery and suggest that those with extreme allergies not risk eating their gluten-free products, their baked goods are so tasty that the gluten-loving and gluten-averse patrons alike can enjoy them! They also offer a variety of other pastries that are not gluten-free.
This week, we're excited to welcome a new vendor, Bread SRSLY, to the Mission Community Market! Bread SRSLY specializes in gluten-free breads and muffins baked in small batches. The menu rotates each week featuring two kinds of bread and one type of muffin, with ingredients sourced from local, sustainable producers.
So what is gluten? For those who may not know, it's actually the protein "glue" that give swheat, barley, and rye flours their stretchy texture when kneaded into dough. Going gluten-free is more common now because about one in 100 Americans suffers from a severe gluten allergy called celiac disease, and many more have gluten sensitivities that leave them feeling tired, achy and bloated after consuming gluten. Those with celiac disease are often misdiagnosed as having myriad other illnesses, when in reality, cutting out gluten could help them much more than prescription medications or surgeries.
What about the rest of us who don't have celiac disease, you ask?  We can enjoy gluten-free goodies too! Some dietitians and doctors believe that even those who do not have wheat allergies can still benefit from following a gluten-free diet. Such a diet can improve cholesterol levels, promote digestive health, and increase one's energy level! Continuing to eat a balanced diet is increasingly important when considering whether or not to eliminate gluten entirely from your diet.  Additionally, gluten-free diets have shown to be beneficial to those suffering from other diseases, such as thyroid disease, cystic fibrosis, multiple sclerosis, anemia, autism, and irritable bowel syndrome.
And don't forget, all of the delicious fresh fruit and vegetables found at the Mission Community Market every week are naturally gluten-free, so head on over this Thursday, grab some of your favorites, and whip up a wheat-free meal!