In just a few short weeks, Thanksgiving will be upon us! If you're looking for new, exciting recipes to wow your guests, look no further! We'll be posting a series of Turkey Day recipes leading up to the big day, featuring all the delicious goodies you can find at MCM!
Here's a tasty desert that offers a burst of color while highlighting the fruits of the season. This recipe for pomegranate-poached pears is relatively easy to execute, looks impressive, and is a delicious and healthier alternative to many deserts.
This recipe is adapted from this one with really great results. Her recipe uses bottled pomegranate juice, but with all the huge, plump poms for sale at MCM from Twin Girls and Arata Farm, we just couldn't resist using the fresh stuff!  A great method to clean pomegranates to avoid making a mess is to submerge sections of the pomegranates in a bowl full of water to clean them, outlined here. All the mess happens underwater and you shouldn't get any juice spray on your shirt or in your face. Genius!
For this recipe you'll need:
-3 bosc or bartlett pears from K&J Orchards or Rainbow Orchards
-3 large pomegranates from Twin Girls Farm or Arata Farm (can substitute 16 oz pomegranate juice such as POM in a pinch)
-1/4 Cup brandy (we used cognac)
-The juice of one lemon – if you don't like your deserts a little tart you can reduce this amount to taste.
-2 Tablespoons brown sugar, plus a little extra to sprinkle on top
-1 cinnamon stick (or 1/4 tsp cinnamon if you don't have a stick)
-1/4 tsp ground clove
After cleaning the pomegranates and extracting all the seeds, you can juice them by mashing them in a large bowl with a potato masher and straining off the juice. This was a bit messy, so alternately, you can pulse them a couple times in a blender, but you have to be careful not to mash up the seeds themselves. Then, you'd strain the juice through a sieve to make sure any bits of seed didn't make it into the juice concoction. The article linked above about seeding pomegranates also has great tips for juicing the seeds.
After extracting all the juice you can, mix the pomegranate juice with all the additional ingredients in a saucepan and bring the liquid to a simmer. Meanwhile, peel the pears, leaving the stems on.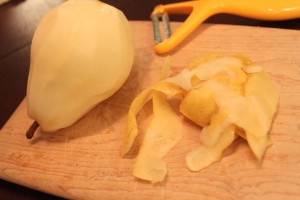 Once the liquid simmered for about 5 minutes, add the pears into the mix and let them simmer for about 13 minutes, turning the pears occasionally and spooning the liquid over them. If you have a very shallow pan, you can cut the pears in half in order to make them fit in the pan. This won't make your presentation quite as nice later on, but it will enable the pears to soak in the juice a little better.
After about 13 minutes, turn off the heat and let the pears sit in the pan with the juice for an additional 5-7 minutes, spooning more juice over the pears as they cool. Removed the pears from the pan and carefully sliced and plated them. Taste one and if it's too tart, you can always sprinkle a bit more brown sugar on top to taste.
And, the secret surprise at the end of this recipe is that you get a delicious glass of warm, spiced pomegranate juice to drink at the end of your preparation! Drinking this recipe's tasty by-product made us want to experiment with creating a warm spiced pomegranate cider! Maybe next week…
Happy cooking!