Meet Tina and Zoe (16 months), MCM regulars who love the music, food demos, and seeing their neighbors!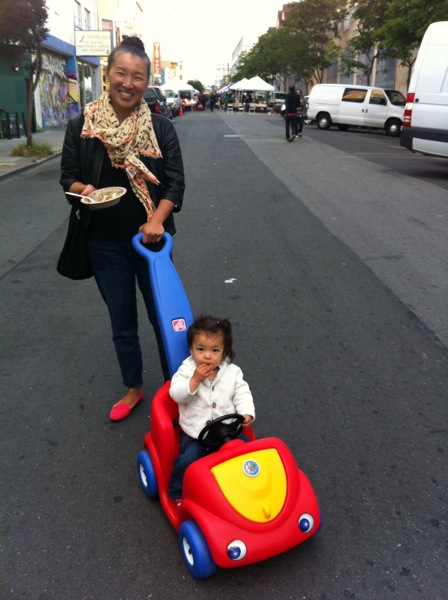 Where do you live?  Liberty & Guerrero
How often do you come to the MCM?  Every week, pretty much.
What are you buying?  Peaches from Twin Girls, a special order from Bok Ssam (in a bowl) so that Zoe can eat it.  I love all the samples that the vendors give out, so that Zoe can try new things. Often, we get salmon from Coastside Farms or cakes from flourChylde. And, we LOVE getting the kettle corn from Peter's Kettle Corn!
What's your favorite part of the market? We like the music, and also the cooking demos at the Urban Sprouts booth.  I really like the guy who does them*; he's always so engaging.  It's also nice to see people from the neighborhood.
What's the best kept secret at MCM, or something you would like people to know about? There are more food vendors than before; the market has really grown. Also, it's a great place to have dinner, that's why you see so many parents here.
* Editor's note: That's Raul Hernandez with Urban Sprouts! Yay Raul!