Photos taken by Daniel Sullivan Jr. Instagram: @dsulliphoto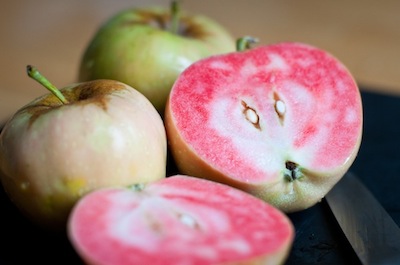 Following the advice of farmer Dave from Hale's Apple Farm, I used these beautiful pink pearls for this recipe as they not only offered a vibrant pop of color but also a unique flavor difference. As pink pearl season has sadly ended, we're confident that this recipe would be equally delicious with any of his apples – ask Dave what's good this week and perhaps even use a mix of two or three of his varieties! Recipe found after the jump.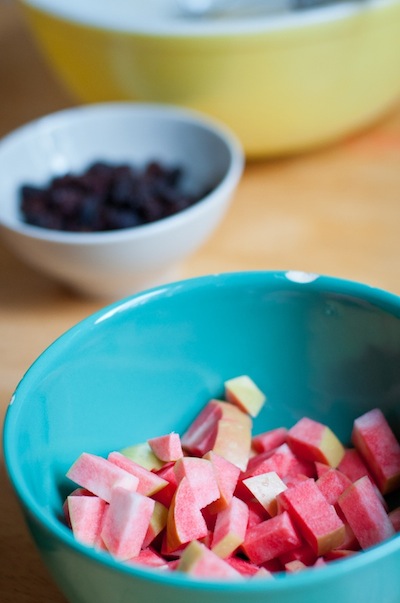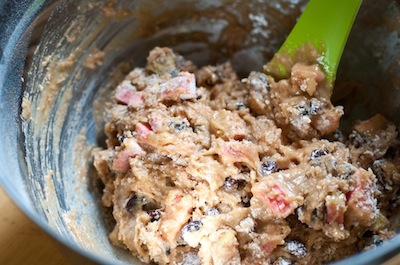 Some notes before you start: Depending on the size of your muffin tin, this batch should produce about 12-15 muffins. I opted for using coconut oil to grease my muffin tin instead of paper liners but you can use the method that best serves you. The batter won't expand too much when baking, so don't be afraid to add a little extra to each cup if you want a nice shapely muffin top. Lastly, we kept nuts out of this batch but if you want to add a little meaty crunch, go ahead and throw in a half cup of chopped walnuts when adding the apple chunks and raisins.
To make this recipe you will need:
1 c. Whole Wheat Flour
1 c. All-Purpose Flour
1/2 c. Sugar
1 tsp. Baking Soda
1 tsp. Baking Powder
1 tsp. Sea Salt
1 tsp. Cinnamon
1/2 c. Extra Virgin Olive Oil
2 tbls. Walnut Oil (or extra virgin olive oil)
1/2 c. REAL Maple Syrup
1 tsp. Pure Vanilla Extract
2 Large Eggs
2 cups (about 2-3) chopped apples (skins on, core left out)
3/4 c. Raisins (any kind works but I used Flame Raisins)
1 tbls. coconut oil (or any grease method you prefer for your muffin tin)
Instructions:
–  Set oven to 350° F and grease muffin tin using coconut oil and a paper towel.
– In a large mixing bowl, whisk together all dry ingredients (flours, sugar, baking soda, baking powder, cinnamon and sea salt).
– In a separate bowl, whisk together wet ingredients (olive oil, walnut oil, maple syrup, vanilla, and eggs).
– Add wet ingredients to dry ingredients and stir using a spatula in order to scrape the edges of your bowl until just combined. DO NOT over-mix or your muffins will turn out tough. Tiny hints of flour, as seen above, is ok.
– Add your chopped apples, and raisins and stir until evenly incorporated. Again, avoid over-mixing.
– Spoon the batter into the prepared muffin tin until each cup is nearly full. An ice-cream scoop works fantastically for this task.
– Place tin in oven and bake for 20-25 minutes, rotating the tin at about 12 minutes. To check that the muffins have finished baking, insert a toothpick into the center of one and check to see if it comes out clean.
– Remove the tin from oven, take muffins out of the tin and set on a wire rack to cool. If allowed to cool in the tin, the muffins will continue to bake and may be over done.
– Enjoy your muffins immediately once they have cooled or store them in an airtight container for up to four days. If you wish to save them for longer, they can be frozen and enjoyed for up to three months.