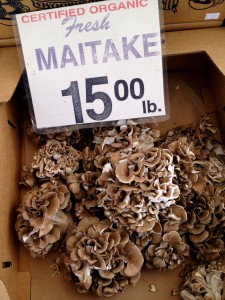 Our clocks have moved forward an hour, but our palates may still crave a little taste of fall. This week's savory recipe highlights a few amazing items from our market, including microgreens from our newest vendor Lifefood Gardens!
Garlic-Rosemary Mushrooms with Home Maid Ravioli
Ingredients:
3 Large cloves of garlic
Olive oil from Terra Savia
Mushroom assortment from Far West Fungi: Maitake, Shiitake, King Oyster
Salt and Pepper
Package of mushroom and roasted garlic ravioli from Home Maid Ravioli
Spicy variety of microgreens from Lifefood Gardens
Fresh rosemary from a neighbors bush (or Rainbow Grocery)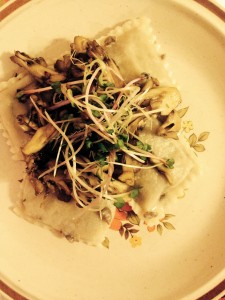 Directions:
In boiling water, add raviolis (previously frozen). Boil on medium for roughly 8-10 minutes.
In a separate pan, heat olive oil. Add rosemary and chopped mushrooms. Once this is cooked down a bit on simmer, add garlic. Stir occasionally. It is important to use a larger pan so the mushrooms do not crowd and the heat is on simmer. This concoction should simmer until the raviolis are compete and the meal is ready to be served.
On a plate, place raviolis and drizzle olive oil, salt and pepper. Place sauteed mushrooms on top of the raviolis and sprinkle a small handful of spicy microgreens to complete the meal! Enjoy with fresh bread from Marla Bakery or Arizmendi Bakery, available each week at the market!