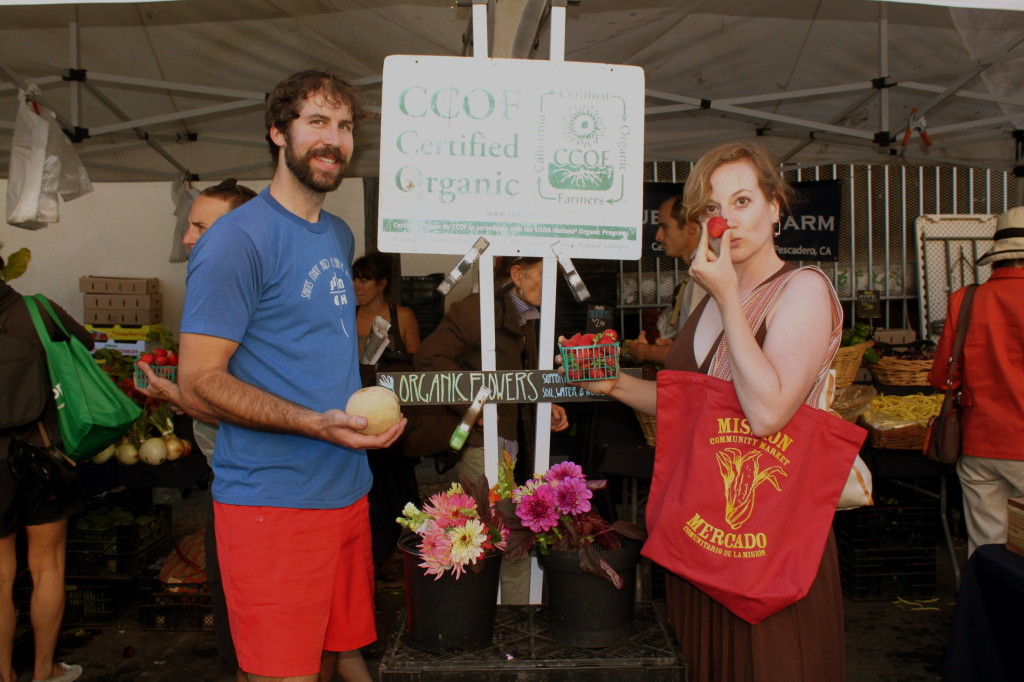 I found these two market regulars goofing off at the Blue House Farm booth and decided to interview them!
Meet Lea and Jesse! Lea has been a volunteer with MCM since our very first season in 2010. She worked particularly hard during that crucial first year, both at the market and behind the scenes recruiting awesome bands to play at MCM, creating and documenting recipes for the blog, and encouraging friends and acquaintances to volunteer. She still does her part as an essential member of the MCM volunteer community, sending tons of great helpers our way, facilitating community partnerships, and always coming through in the clutch when we're short-staffed. Her partner Jesse has not been immune to her recruiting efforts, as he's volunteered with the market as well. Jesse also works part-time for Blue House Farm running their stand at other markets and occasionally helping out at the MCM stand.
Where do you live?
We live a few blocks away in the Mission.
How often do you visit to the Market?
Coming to the market is a fun standard thing to do on Thursday nights so we are here pretty regularly.
What have you seen change here since you were volunteering in 2010?
The market has grown so much in the past few years. So many more people visit each week and it has become a much more established community event. There are many more vendors and it's also been a great change now that the market is running year-around.
What is your favorite thing to buy here?
I (Lea) am totally addicted to Arzimendi Breadsticks. I get them almost every time I come here and frequent their shop on Valencia as well.
What is something you would like others to know about the Market?
Volunteering is a great way to meet people and become more engaged with your community. We have a lot of fun when we volunteer and enjoy seeing the same faces week to week. Also, a lot of small businesses get their start here and it feels good to get to know them and support them as they grow.