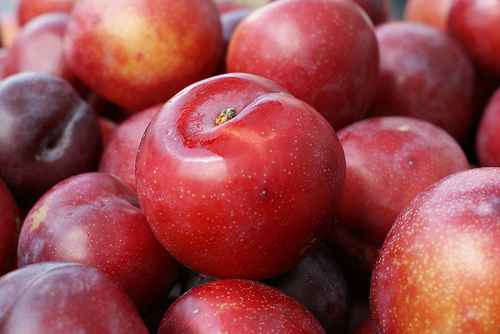 When you visit the market, it's hard to miss the crowd of customers tasting and buying a delicious variety of plums, pluots, and other stone fruit from Twin Girls Farm. Now's a great time to get your plum fix while they are still in season through next month. Enjoy them now, or you'll have to wait for their return next year in late spring!
Plums work beautifully in a rustic tart, also known en Francais as a galette. Flaky tart dough wrapped around colorful plums makes a striking dessert sure to get oohs and ahhs from your family and friends. Oh, and it's also tasty and surprisingly simple to make! While plums are highly recommended, you can substitute almost any fruit in this recipe and customize your galette according to what's in season.
The full recipe is after the jump. Happy baking!
Rustic Plum Tart
(adapted from The Art and Soul of Baking by Cindy Muscat)
Tart dough:
1 1/2 c flour
1 t sugar
Pinch of salt
1 stick (8 T) unsalted butter, cold
1 8-ounce package cream cheese, cold
Filling:
1.5 pounds ripe plums, pitted and sliced
2/3 c sugar
2.5 T flour
1/4 c mascarpone
Instructions:
To make the crust, combine the flour, sugar, and salt in a food processor. Cut the cold butter into tablespoon-sized pieces, add to the food processor, and pulse until the largest pieces of butter are around the size of peas. Do not over process – those pieces of butter will make your crust flaky and tasty! Repeat with the cream cheese, adding to the food processor and pulsing until the dough forms into large clumps. Remove dough from the food processor and knead gently a few times to form a cohesive dough. Form into a disk, wrap in plastic wrap, and refrigerate for at least 30 minutes.
To make the filling, mix plums with the sugar and flour until well coated. When you're ready to assemble the tart, preheat the oven to 400 degrees.
Once the dough has chilled, remove from plastic wrap and place on a piece of parchment paper. Roll out the dough into a large circle approximately 1/8 inch thick, sprinkling with flour as needed. Spread the mascarpone in a thin layer on the dough, leaving a 1.5 to 2 inch uncovered border around the edge. Arrange the plum slices on top of the mascarpone. Fold the edges of dough inward over the fruit, pleating to make a border. And remember the beauty of a rustic tart is that it doesn't have to look perfect.
Transfer the parchment paper with the tart onto a baking sheet and bake for 40 minutes until the fruit is bubbling and the crust is golden brown. Cool slightly on a wire rack. Serve warm.