**This awesome recipe was submitted by our wonderful volunteer Dena!
Fall is a fantastic time of year. Even though we don't get the drastic and beautiful color-changing leaves that we can sweep into a pile in our lawns here in San Francisco, we still get all the pumpkin-spiced lattes and crisp fall winds that encourage us to cusp that latte tighter in our cold hands. As we welcome this new season and mourn the passing of summertime, pick up a few of the last tomatoes of the season this week from Blue House Farm and try out this simple recipe!
The Mission Community Market is adorned with twinkling lights and the delicious fall veggies are pouring in. Inspired by autumn, this hearty recipe features a Thanksgiving staple, but not in any way you've likely seen it before. Ditch the processed marshmallows and welcome in… the sweet potato gnocchi.
The thing I want to mention about this recipe is how easy it is and how delicious the result is. The spices and fresh tomatoes in the sauce elevate this simple recipe into a gourmet dish.
Full Recipe after the jump!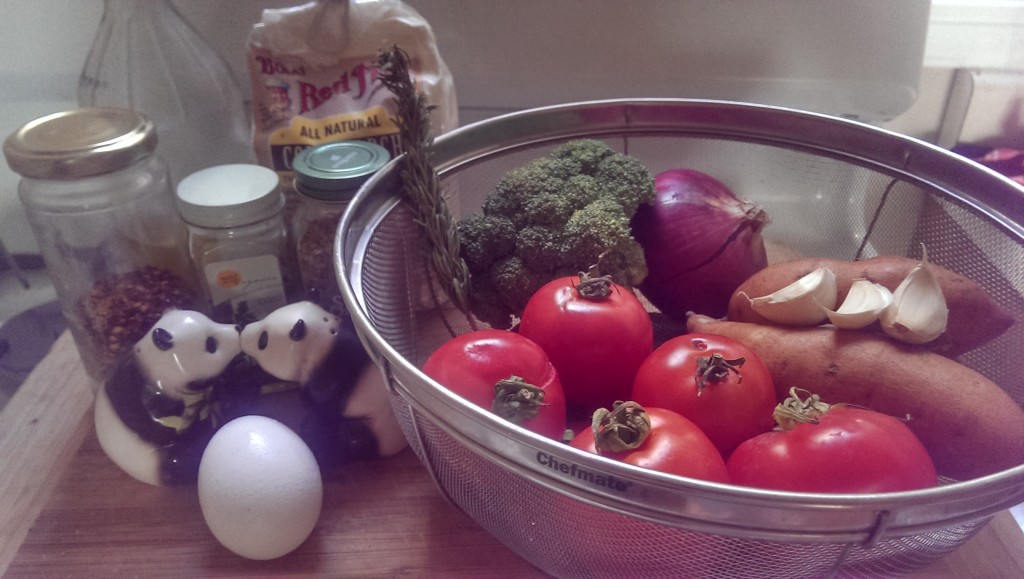 Sweet Potato Gnocchi with Tomato Sauce
Recipe adapted from A Teaspoon of Love
Ingredients – Gnocchi
1 medium/large sweet potato (I used 4 small ones  – roughly 1 large)

1.5 cup arrowroot powder or corn starch
Pinch of salt
1 egg
Instructions – Gnocchi
Wash and dice the sweet potato into 2 inch pieces

Boil until tender to a poke with a fork – about 10-15 minutes
Drain water and mash until all lumps are gone – you can leave the skins on

Preheat oven to 350 F

Add in the salt and egg to the mashed sweet potato – mix well
Slowly add in the arrowroot powder/corn starch until the dough is malleable
Remove 1/2 inch portions at a time and roll into balls and place on ungreased baking sheet. Flatten  slightly with your thumb
Bake 10 minutes & set aside to be added to sauce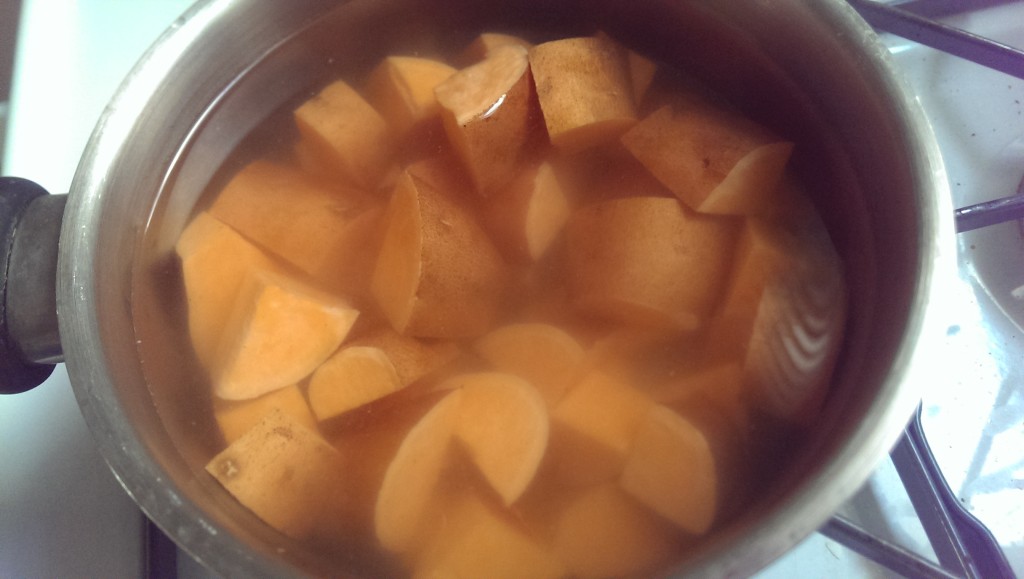 Ingredients – Tomato Sauce
Tomato puree – 1 cup (I used 4 small Early Girl tomatoes from Blue House Farm and blended to create the puree)
2 diced Heirloom tomatoes, also from Blue House Farm

1 medium onion diced
2 cloves garlic
1 small head of broccoli cut into bite-size pieces
2 tbsp olive oil
Several sprigs fresh rosemary
Healthy dash of basil
Healthy dash of oregano
Healthy dash of chili flakes (reduce/omit if you're not into spicy foods)
Salt and pepper to taste
Optional: parmesan cheese
Instructions – Tomato Sauce
In a saucepan over medium heat, heat olive oil and cook the onions and garlic until softened
Add the tomato puree, diced tomatoes and broccoli, and cook for 4-5 minutes
Add rosemary, basil, oregano, chili flakes, and salt and pepper
Stir in your sweet potato gnocchi
Serve into a bowl, top with parmesan cheese if you'd like, and you're ready for a healthy market-fresh dinner
*Notes
This recipe is further enhanced by adding sausage. Stop by

4505 Meats

 for a great add-in to your homemade sauce. 

Broccoli can be subbed out for zucchini or whatever other veggie you fancy!