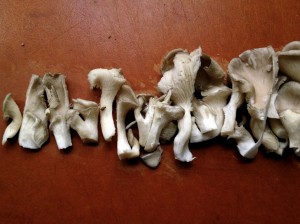 This week's recipe combines three different recipes to create one delicious breakfast treat, perfect for any Sunday morning. Seize the opportunity to learn how to create your own home-made buttermilk biscuits, a delightfully easy mushroom hollandaise sauce, and poached eggs. Stop by the market this week to pick up some fresh oyster mushrooms from Far West Fungi, a lemon or two from Twin Girls Farm, and some delicious cage-free organic eggs from Great Valley Poultry to delve into morning creativity! Recipe to follow after the jump!


Eggs Benedict with Oyster Mushroom Hollandaise
Home-made Buttermilk Biscuits (if you're in a rush you can skip this part and opt for English muffins from Arizmendi, but we highly recommend trying it out!)
Ingredients:
2 cups all-purpose flour
2 tsp baking powder
1 tsp salt
1/4 tsp baking soda
7 tbs unsalted butter, chilled in freezer and cut into thin slices
3/4 cup cold buttermilk
2 tbs buttermilk for brushing
Directions:
Preheat oven to 425º F. Meanwhile, line a baking sheet with a silicone baking mat or parchment paper. Whisk flour, baking powder, salt, and baking soda together in a large bowl. Cut butter into flour mixture with your hands or a pastry blender until the mixture resembles coarse crumbs, for about 5 minutes. Make a well in the center of butter and flour mixture. Pour in ¾ cup buttermilk; stir until just combined. Sprinkle flour onto a flat work surface and roll dough; pat together into a rectangle roughly ½ in thick. Fold the rectangle in thirds. Turn dough a half turn, gather any crumbs, and flatten back into a rectangle. Repeat twice more, folding and pressing dough a total of three times. Roll dough on a floured surface to about 1/2 inch thick. Cut out 12 biscuits using a 2 1/2-inch round biscuit cutter. Transfer biscuits to the prepared baking sheet. Press an indent into the top of each biscuit with your thumb. Brush the tops of biscuits with 2 tbs buttermilk. Bake in the preheated oven until browned, about 15 minutes.
—–
Poached Eggs and Mushroom Hollandaise
Ingredients:
For the eggs:
1/2 tsp cider vinegar or distilled white vinegar
4 large eggs, as fresh as possible, straight from the fridge from Great Valley Poultry
2 home-made biscuits, split, toasted and buttered
For the mushrooms and sauce:
7  tbs unsalted butter
8 oz oyster mushrooms, stemmed and sliced from Far West Fungi
Freshly ground black pepper
Freshly squeezed juice of 1/2 small lemon (about 1 tablespoon) from Twin Girls Farm
1 large egg yolk, at room temperature
Few drops of truffle oil (optional, but recommended)
Cumin seeds
Directions:
For the eggs: Line a wide bowl with a few layers of paper towels. Fill a saucepan or skillet with about 3 inches of water. Bring to a boil over high heat. Add the vinegar and reduce the heat to medium or medium-low, so the water is barely bubbling at the edges. Gently break the eggs into individual cups outside of the pan. Use a spoon to swirl the water a few times. One egg at a time, hold the side of the egg container as close as possible to the surface of the water and slide each egg in. Cook for 2 to 4 minutes, depending on how runny you like your eggs. Use a slotted spoon to transfer to the lined bowl. Repeat to poach the remaining 3 eggs (Trim off any "threads" if necessary before serving)
For the mushrooms and sauce: Fill a medium saucepan with a few inches of water, and heat over medium heat or until the water is barely bubbling at the edges. Adjust the heat to medium-low if needed. Place a metal bowl on the saucepan (to create a double boiler).
Melt 2 tablespoons of the butter in a medium skillet over medium heat. Add all of the oyster mushrooms and cook for about 10 minutes, stirring occasionally, so the mushrooms release their moisture and brown. Sprinkle with a little salt and cumin seeds. Arrange on the biscuits and wait for the completion of the hollandaise sauce.
In the double boiler, combine the lemon juice and egg yolk and whisk to blend. Set over the simmering water and continue whisking until the eggs start to set. Remove from the heat and whisk in the melted butter, a tablespoon or so at a time, until the sauce emulsifies. Stir in a few dashes of pepper.
To assemble, lay the toasted, buttered biscuit halves on warmed plates and top with the oyster mushroom mixture. Place a poached egg on each half, then spoon the hollandaise over each portion. Serve right away.