The love that we express on Valentines Day does not have to be just once a year… Extend the love with this week's Navel Orange Pound Cake recipe! Treat your partner every day of the week and show them (and their stomach) the love they deserve. And speaking of love… We are happy to welcome back Twin Girls Farm to the market this season! Come by their stall to pick up some delicious navel oranges, lemons, blood oranges, pomelos, and mandarins. Get ready for their wide selection of apricots, cherries, grapes, guavas, jujubes, nectarines, peaches, persimmons, plums, pluots, pomegranates, and more as the year goes on. Their amazing variety will change as the season moves into spring and summer. This week's recipe features their sweet and juicy naval oranges, perfectly ripe and dangerously addicting. Try out our Navel Orange Pound Cake recipe, adapted from Ina Garten's Pound Cake recipe, after the jump!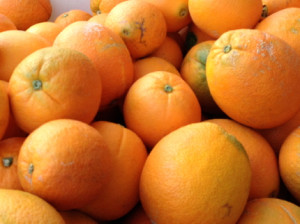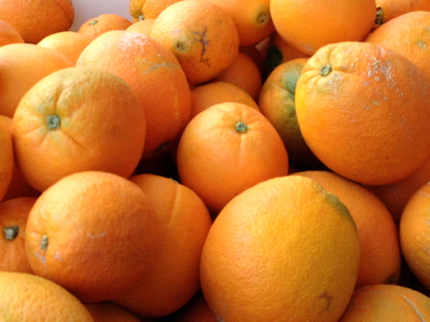 Navel Orange Pound Cake
Ingredients:
1/2 pound (two sticks) unsalted butter, room temperature
2 1/2 cups granulated sugar, divided
4 extra large eggs from Great Valley Poultry, room temperature
1/3 cup grated orange zest (about 4-5 large navel oranges from Twin Girls Farm)
3  cups all-purpose flour
1/2 tsp baking powder
1/2 tsp baking soda
1 tsp kosher salt
3/4 cup freshly squeezed orange juice, divided
3/4 cup buttermilk, room temperature
1 tsp pure vanilla extract
To glaze (optional):
1 cup powdered sugar
1 1/2 tbs freshly squeezed orange juice
Instructions:
Heat oven to 350 degrees. I chose to use a bundt pan, but the original recipe calls for the use of 8.5 x 4.5 x 2.5 – inch loaf pans (greased and floured). Line the bottoms with parchment paper.
Cream the butter and 2 cups of granulated sugar in a bowl (with an electric mixer, or if you do not own one, stir quickly with a whisk), for about 5 minutes until light and fluffy. On medium speed, or with medium arm strength, beat in the eggs one at a time, along with the orange zest.
In a large bowl, sift together the flour, baking powder, baking soda, and salt. In another bowl, combine 1/4 cup of the orange juice, the buttermilk, and the vanilla. Add the flour and buttermilk mixtures alternately to the batter, beginning and ending with the flour. Divide the batter between the two pans or pour all into one large bundt pan. Bake for roughly 45 minutes to 1 hour. Test with a toothpick to make sure there is no cake residue upon completion.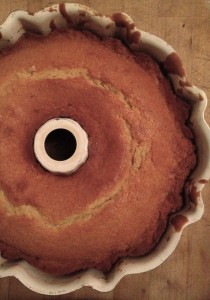 While the cake is baking, cook the remaining 1/2 cup of granulated sugar with the remaining 1/2 cup of orange juice in a small saucepan over low heat until the sugar is dissolved. When the cake is done, let it cool for 10 minutes. Remove the cake from the pan and place it on a baking rack set over a tray. Spoon the orange syrup over the cake and allow the cake to cool completely.
To glaze (optional, but recommended), combine the powdered sugar and orange juice in a bowl, mixing until smooth. Add a few more drops of juice or water if necessary. Pour over the top of the cake.
Enjoy warm or cold, with breakfast or as a dessert, with a partner or a group of friends!