This super easy and quick recipe can be summed up in one word: summer. As you have probably already guessed from the title, the main cast in this colorful salad are tomatoes, corn, and avocado.
Tomatoes are at their peak season which means each bite is packed with a wonderfully delicious harmony of flavors from sweet to tangy. You could use frozen corn in this recipe, but why not take advantage of the fresh corn available at markets right now. Plus, they are quicker to prepare than you'd think (see below). Then there's the creamy, melt-in-your-mouth avocado which adds an extra layer of deliciousness to this crowd pleasing dish. And finally, it's all tossed in a lime and cilantro dressing for a bright and summer infused dish. Need I say more?
You can pick up all the main ingredients from some of your favorite vendors at Mission Mercado and you likely already have the rest in your kitchen.

It's a fail-proof recipe that's a perfect addition to a picnic in the park, a potluck with friends or a quick weeknight dinner. Pair it with a fresh baguette or some grilled chicken and you got yourself a delicious and healthy treat.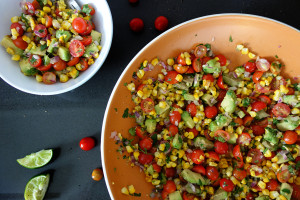 Yields 4 servings
Ingredients
2 ears of fresh corn (or 2 cups frozen corn)
1 avocado, cut into 1/2-inch cubes
1 pint cherry or grape tomatoes, halved
1/2 cup finely diced red onion
Dressing
3 tablespoons olive oil
Juice of 1 lime
1/2 cup chopped cilantro
1/2 teaspoon salt
1/4 teaspoon pepper
Instructions
Clean corn and place into a pot with enough water to cover. Once the water starts boiling, turn the heat down to medium and cook for 10 minutes. When done cooking, I also like to stick them in the oven and broil them for about 5 minutes, turning them every now and again to develop an even toasted color. Once they're cooled, cut the kernels off the cob.
Combine the corn, avocado, tomatoes and onion in a large bowl. Mix together the dressing ingredients and pour over the salad. Gently toss to mix and, if you can wait, chill for an hour to let the flavors blend.
Enjoy all the compliments!