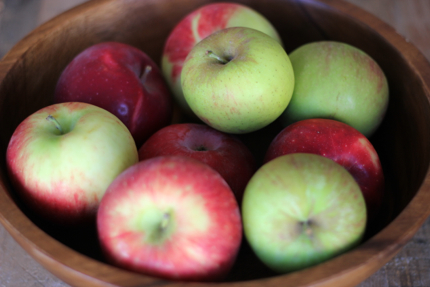 Try this sophisticated French twist on an apple pie and wow your guests at a dinner party! The tarte is baked in a skillet and turned out fresh from the oven onto a platter and voilà, dessert is served. This fun recipe is courtesy of our very own Mission Community Market vendor Marla Bakery. If you've tried the hand pies they sell at the market you know how wonderfully flaky the crust is. Here is your chance to try your hand at that flaky goodness yourself using their recipe!
Visit Hale's Apple Farm at the market to find a delicious variety of seasonal apples organized from sweet to tart. They recommend baking with a variety of apples – we used Sleeping Beauties and Romes! Happy baking!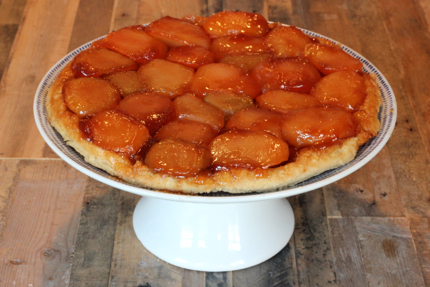 Tarte Tatin
Yield 12″ Tarte Tatin
For Pastry Dough:
1 lb pastry flour
1 tsp salt
12 oz (3 sticks) unsalted butter
1/3 c ice water
1/3 c bourbon
For Tarte Tatin:
7-9 good baking apples (e.g. Sleeping Beauty, Rome, etc from
Hale Apple Farm
)
1/2 c sugar
1/2 c brown sugar
juice of 1 lemon
pinch of salt
2 Tbl unsalted butter
For Dough:
Mix salt and flour together. Pour out onto a table and cut in cold butter, until very small pea sized chunks. Mix the ice water and bourbon together. Pour over dry mixture and work in with a bench scraper or pastry cutter. Try not to use your hands, this will warm the butter. Mixture will be very dry and crumbly, fold and press until you have a shaggy, cohesive mass. Wrap in parchment and chill at least 6 hours.
For Tarte Tatin:
Preheat oven to 375.
To make the Tarte Tatin, roll out dough to a rough circle about 1/4″ thick. Take a cast iron skillet or saute pan and trace the circumference of the pan onto a piece of parchment. Cut this out and use as a guide to cut a circle in the dough. Mark the middle of the dough with four small cuts and chill dough round. Meanwhile, peel apples and cut into quarters, slicing out the core. Mix apples, sugars, salt, and lemon juice and let sit until apples release their juice, about 20 mins. Strain apples and reserve juice. In your skillet or saute pan melt butter. and pour in sugar/apple juice mixture. Bring to a boil and stir until mixture begins to caramelize. When mixture is a golden brown color turn off heat and carefully place apples cut side up in pan. Don't burn yourself! Apples should completely cover the bottom of the pan. Bring back to medium high flame and cook for 10 mins, covered with a lid to tenderize apples. Turn off heat, and carefully place your dough round on top of the apples and slide into the preheated oven for 25 to 30 mins. When done, pastry should be dark golden brown and you should see caramel bubbling around the sides of your pan. Pull out of the oven and let cool for 7 mins.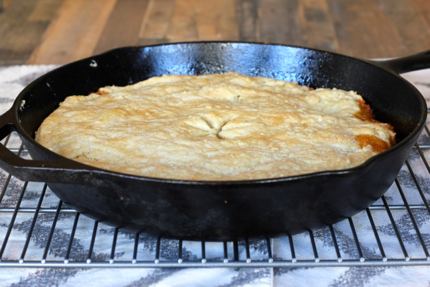 Carefully place a sheetpan or large plate over the top of the pan and quickly flip over to release your tarte tatin. If any apples are stuck to the pan, you can remove them with knife or spatula and place them on the pastry, no one will mind! Cool to room temp and serve with sweetened creme fraiche, ice cream or whatever your heart may desire. Enjoy!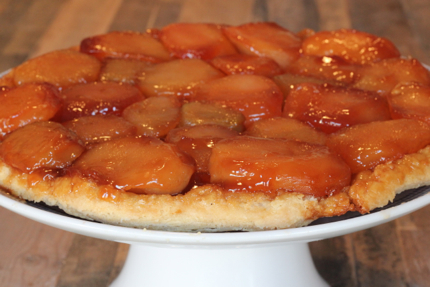 Photos by Carletta Wong