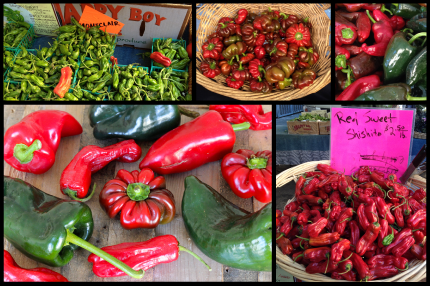 The abundance of peppers at the market comes in many shapes, sizes, colors, and flavors. Don't miss out as pepper season winds down! Blue House Farm and Happy Boy Farms tell us there are only about two to three weeks of peppers left.
Wondering what to do with all these wonderful peppers? Chiles rellenos are a traditional Mexican dish that translates as "stuffed chiles" – typically a roasted poblano pepper stuffed with cheese, fried in egg batter, and served over tomato sauce. This casserole is an easier version that's also healthier because it's baked instead of fried.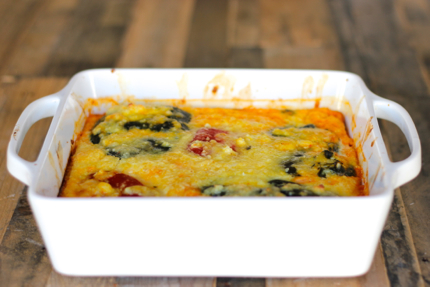 This casserole features a variety of peppers that can be found at the market – red shishito peppers from Happy Boy Farms and round of Hungary, poblano, and lipstick peppers from Blue House Farm. A layer of tomato sauce made with heirloom tomatoes from Happy Boy Farms and laced with red shishito and round of Hungary peppers is topped with poblano and lipstick peppers stuffed with cotija and monterey jack cheeses. The casserole is then topped with an egg-flour mixture featuring eggs from Great Valley Poultry and baked to perfection. The peppers can be stuffed with cheeses of your choice – for an extra kick try the Hot Hilda fresh cheese curds from Achadinha Cheese Company flavored with cayenne and red chili!
The full recipe is after the jump. ¡Buen provecho! 
Chiles Rellenos Casserole
Adapted from these recipes at CHOW.com and SimplyRecipes.com
Serves 4
Ingredients:
1 pound tomatoes, halved
1/2 onion, cut into 1/2 inch strips
2 garlic cloves, peeled and smashed
2-3 small peppers, such as red shishito and round of Hungary
1 t freshly squeezed lime juice
Salt to taste
4-5 medium to large peppers, such as poblano and lipstick peppers
2-3 cups shredded cheese, such as monterey jack, cotija, cheese curds
6 eggs
2 T plus 2 t flour
1/2 t baking powder
Instructions:
Roast all the peppers on a baking sheet under the broiler, turning the peppers until the skin on all sides gets charred and blackened. Remove from oven and place peppers in a plastic zip top bag. Close the bag and let steam for about 20 minutes, which will make it easier to remove the skin.
Place the tomatoes skin side up on the baking sheet, surround with the garlic and onion, and roast under the broiler until the skin on the tomatoes gets charred and blackened. Remove from oven and place tomatoes, garlic, and onions in a food processor with the lime juice and salt to taste. De-stem the roasted small peppers and add to the food processor. Blend until smooth and strain though a mesh strainer to remove charred skin and seeds. The sauce will be fairly thin. Pour the tomato-pepper sauce into the bottom of an 8×8 inch baking dish until about 1/2 inch deep. Reserve remaining sauce for serving with the finished casserole.
Preheat oven to 375 degrees.
Carefully de-stem the medium to large peppers and remove the skin. Cut a slit lengthwise from tip to stem in each pepper and carefully scoop out the seeds. Be careful not to rip the the peppers. Stuff each pepper with a mixture of the shredded cheeses and place slit side down in the baking dish on top of the tomato-pepper sauce. Sprinkle a handful of cheese over the peppers.
Whisk eggs, then add flour, baking powder, and a pinch of salt and whisk thoroughly. Pour the egg mixture over the peppers and top with another sprinkling of cheese. Bake until top starts to brown and the eggs are set but still soft, about 30 minutes.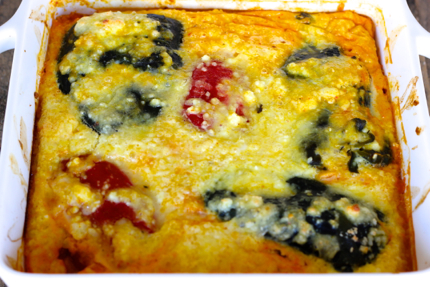 All photos by Carletta Wong