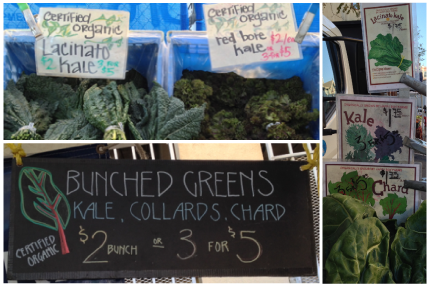 The market is a great place to stock up on organic greens! Grab a variety of healthy greens, from kale and chard to collards and dandelion greens, available by the bunch from Blue House Farm and Happy Boy Farms. And at 3 bunches for $5, it's a great deal! These farms also frequently sell spinach, lettuces, and beets, which usually contain free greens as an added bonus!
Wondering what to do with all those greens? Here is a simple recipe for a creamy, tasty soup that can be made with any combo of greens you have on hand. This is a great way to make use of any leafy goodies, even if they're approaching the end of their freshness. Made here with kale and mixed lettuces, you could substitute with one or more bunches of your choice.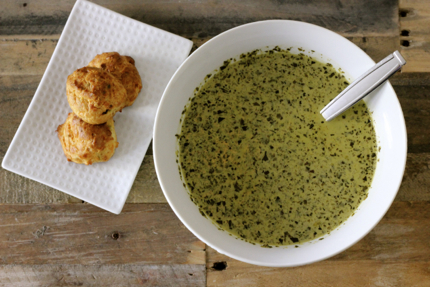 Full recipe found after the jump!
Creamy Greens Soup
Recipe adapted from Tante Marie's Cooking School
Ingredients:
2 lbs mixed greens (approximately 2-3 bunches), washed, trimmed, and roughly chopped
1 c green peas, fresh or frozen
6 T butter
1/2 c green onions, minced (can substitute leek or onion)
4 T flour
4 c chicken stock
1/2 c heavy cream
Salt and pepper to taste
Instructions:
Blanch the mixed greens in a large amount of boiling salted water for about 10 minutes, adding the peas in for the last couple minutes. Drain.
In a large pot, melt the butter and sauté the onions until soft. Sprinkle on the flour and stir for 2-3 minutes. Add the greens mixture and season with salt and pepper to taste. Stir for 2 minutes longer. Add the chicken stock and blend well. Simmer for about 5 minutes and then remove from heat.
Use an immersion blender to puree the soup, or puree in small batches in a food processor. Stir in the cream. Serve hot or cold.