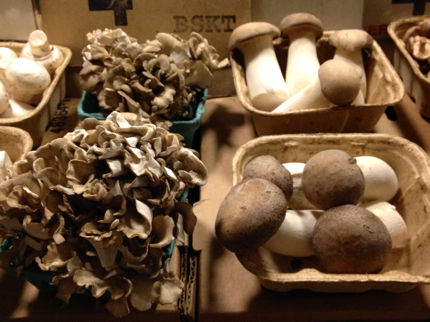 Stop by the Far West Fungi stall at the market to explore an amazing array of organic mushrooms. They are happy to share recipe ideas and give advice for how to use their more exotic mushroom varieties. For this week's mushroom quiche, they recommended creamy, buttery king trumpets and firm, crunchy maitakes. To round out the mushroom flavor, we also tossed in some earthy crimini mushrooms.
The mushrooms in this quiche are complemented by mild, creamy Broncha cheese from Achadinha Cheese Company, made in Petaluma from a cow and goat milk blend. And don't forget to pick up more ingredients for this recipe at the market, including eggs from Great Valley Poultry and shallots and herbs from Blue House Farm or Happy Boy Farms.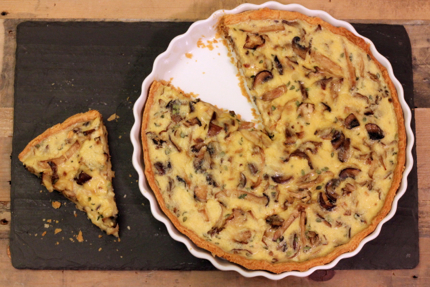 Quiche is very versatile – serve it for dinner with a simple green salad, include it in a brunch menu, or have a slice as an afternoon snack. The full recipe is after the jump. Enjoy!
Mushroom Quiche
Adapted from the Tartine cookbook. This recipe fits a 10 by 1.5 inch quiche pan.
Ingredients:
For quiche dough:
1/2 lb flour (1 1/2 c plus 1 T)
5.25 oz butter (1/2 c plus 2 1/2 T)
1/3 c cold water
1/2 t salt
For quiche filling:
1 T olive oil
1 pound mixed mushrooms, roughly chopped (we used 1/3 lb each of maitake, king trumpet, and crimini from Far West Fungi)
1 T butter
1 shallot, diced
1 T fresh thyme leaves, removed from stems
4 eggs
2 1/2 T flour
3/4 c whole milk
3/4 c greek yogurt
1/2 t salt
1/2 t pepper
3/4 c grated cheese (we used Broncha from Achadinha Cheese Company)
Instructions:
For dough:
Dissolve salt in water and keep in the refrigerator until needed. In a mixing bowl, cut the butter into the flour using a pastry blender or two knives until the mixture forms large crumbs and some of the butter is still in pieces the size of peas. Add the water and salt mixture and toss with a fork until the dough starts to come together in a shaggy mass. Turn out of the mixing bowl onto a cool surface and gently mix until the dough comes together into a round disc (it won't be completely smooth). You should still be able to see some butter chunks. Wrap in plastic wrap and refrigerate for at least 2 hours or up to overnight.
Once chilled, place the dough on a lightly floured work surface and roll out into a circle approximately 1/8 inch thick, rolling from the center to the edge in all directions and lifting to rotate a quarter turn every few strokes to prevent sticking. Lightly dust work surface and rolling pin with flour as needed to prevent sticking. Once rolled out, gently fold dough in half and then fold again so it is a quarter circle. Place the middle corner in the center of your quiche pan and unfold the dough. Gently lift the dough around the edges and press into the edge between the bottom and side of the pan. Trim excess dough by rolling your rolling pin over the top of the pan. Chill the shell in the refrigerator or freezer until firm to touch before baking, at least 30 minutes to 1 hour.
Preheat oven to 375 degrees. Line chilled dough in the quiche pan with parchment paper or aluminum foil and fill with baking beans or rice. Bake until the quiche crust is no longer wet when you pull up the parchment or foil, about 10-20 minutes. Remove parchment or foil with baking beans or rice and return the empty crust to the oven to bake until well browned, about 10 minutes more.
For quiche:
Sauté mushrooms in olive oil for a few minutes on high heat until they start to soften. Add butter, shallot, and half the thyme and continue to cook on medium heat, stirring periodically, until mushrooms are tender, about 10 more minutes. Season with salt and pepper to taste.
Whisk 1 egg with flour until smooth. Whisk in the remaining eggs until well blended. In a separate bowl, combine greek yogurt and milk and whisk until smooth. Combine with the egg mixture and whisk in the salt, pepper, remaining thyme, and grated cheese. Stir in the cooked mushrooms.
Pour the filling into the cooked quiche shell. Bake in the 375 degree oven for 10 minutes, then turn the temperature down to 325 and continue to bake until the filling is just set, about 30 more minutes. The center of the quiche should feel slightly firm, not liquidy. Let cool in the pan on a wire rack for at least 20 minutes before slicing.
Photos by Carletta Wong